PARKING GARAGE

For Christmas this year we made a parking garage for our two grandsons. It was really a hit when they opened it up.
It was a lot of fun to make and even more fun to watch their faces as they opened up the package.
I won't go into a lot of dimensional details because if you make one you'll need to size it for your kids and grandkids. The most fun is figuring out all the different things that go on in a parking garage that will be fun for the kids.
Here are some of the features and how we made them;
The gas pumps are just pieces of 3/4" wood 1" X 3".
The filler hose is a piece of twine, a couple of beads and a piece of wood for the nozzle. I drilled a small hole for the hose and glued the twine in. I made a small wire loop, drilled a hole in the side of the pump and glued it in for the nozzle to park.
The service racks were just 3/4" pieces of plywood cut with a ramp on one end.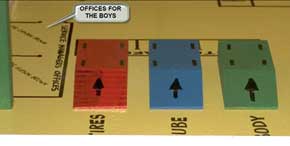 We made them just a little bit wider than the cars that will be "serviced" on them. To personalize the service area we painted offices on the second floor with the grandkids name in each office.
The elevator was the trickiest part. I built a four sided box and smoothed all the edges.
I cut out the elevator shaft holes in each level including the bottom level. That was so that the elevator would sit flush when at the bottom.
I cut notches on each side to install the guides for the elevator. I drilled a hole in the center of the elevator top and put a piece of twine through it for the lift.
I made a crank from a 1/2" dowel and some scarp wood.
The carwash was the most fun.
Marilyn made the brushes from some packing foam and wires. She cut the foam into narrow strips and then wrapped them in the wire. It made them look like the big washing brushes in a real carwash. I built the box for the carwash and drilled small holes for the wires to go into.
We painted everything in really bright colors.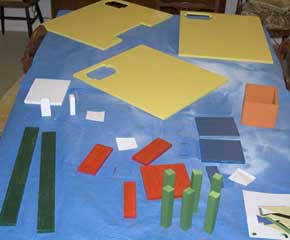 I edged all the way around the second and third floors with some small 1/4" X 1" wood.
To make it really fun for them Marilyn painted a race course on the top floor.

Here are some overview shots of the whole garage.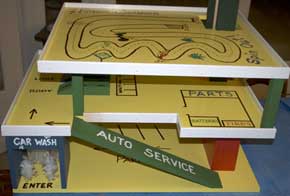 This was really a hit gift that they should enjoy for many years.
That's about it. We hope you liked this project. If you build it and your friends ask where you got such a clever idea, please tell them that you got it at RunnerDuck.com.