WOOD PROJECT PLANS
DOWNLOADABLE & MAIL-DIRECT
WOODWORKING PLANS

Download WOOD Store® woodworking plans directly to your computer and start building in just minutes! OR, we'll mail them to you, your choice!



CLICK!
---
This Months Woodworking Project
Shop Memory
As much as I hate to admit it I am getting older as are many of our readers.
Along with getting older are some aches and pains we never had before and of
course a tiny bit of memory loss, OK a lot of memory loss. While this
generally is not devastating it certainly is frustrating. They say that if
you can't remember where you put your car keys that's normal. If you can't
remember what the keys are for once you've found them you could be in
trouble :-)
This month I'd like to talk about some tricks I've learned (if I can
remember them :-)
to reduce that frustration when working in your woodshop.
One thing that is really maddening is when I leave my compressor turned on.
The motor only runs until the pressure is reached and then shuts off. When I
shut down the shop for the day it's easy to forget that the compressor is
still plugged in. Of course the next thing that happens is at three in the
morning it fires off and wakes everyone up. To solve this problem I made up
a little doorknob hanger that says "Compressor" and I hang it on the door
when the compressor is turned on. When I leave for the day I see the sign
and turn it off.
Along those same lines you can create a shutdown list and post it by the
door. You might include things like "Turn the Heat Down", "Turn Off the
Coffee Pot", etc.
Another memory jogger I have is a white board with all my projects and To
Do's listed on it. I also jot down things that I need. Then when I need to
go shopping I can transfer those items from the list onto my shopping list.
Be sure to erase that part of the board once you've transferred the items or
you may be buying them again :-)
I keep a notebook, actually I keep several. I have a small notepad for
writing down dimensions as I'm working. I keep it handy for just about
anything like when someone calls and leaves a callback phone number. It fits
in my shop apron so it's always at hand. My larger notebook keeps project
ideas that I clip out of magazines and shop tips that I'd like to remember.
A three-hole binder works well for this. The next time I'm thinking about a
project idea I have it for reference.
Cutting something wrong is not only frustrating but can be costly. The most
frustrating is when you are making a final cut on something that has had
lots of other work done to it like mortis' and precision cuts. To help
prevent making a mistake the old adage "measure twice and cut once is good"
but I carry it one step further. I measure once, go back and check my
drawing to verify the dimension and measure twice more. It slows me down a
little but it sure helps avoid mistakes.
Another very frustrating thing is going to get a tool from your tool rack
and it's not there. You know what tool you are looking for and you know you
have it but it's not where it's supposed to be. I like shadow boards as long
as you are diligent about putting your tools back when you are done using
them. While they are called "shadow boards" they can come in many forms.
Pocketed drawers are one form of shadow board.
I discovered a cleaver way of making shadow boards by using a camera or copy
machine. Take the tool you want to place on the shadow board, scan a copy of
it, or take a photo, and print it (full size), cut out the picture of the
tool and glue it to your pegboard.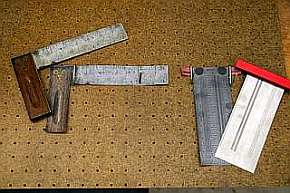 You now have a dedicated location for
that tool and you'll know when it's gone missing by just looking at your
shadow board. You'll also know exactly what the tool looks like that goes in
that location. This is especially helpful when someone else comes into your
shop and "borrows" a tool that doesn't get put back.
I hope these ideas help a little bit and if you have some hints of your own
that help with short term memory loss in the woodshop I'd love to hear about
them and post them on my woodworking web site.
That's about it. We hope you liked this project. If you build it and your friends ask where you got such a clever idea, please tell them that you got it at RunnerDuck.com.