What's New? One thing that continually fascinates us all is the weather. If you remember last months newsletter we talked about record rains, high winds, flooding and snow. Well December wasn't much better. While the rains subsided to it's normal Northwest drizzle we got hammered with hurricane force winds all across the Western Washington area. Our power was out for three days and many people were without power for more than a week. All of this got our interest going in setting up a weather station at our house. As luck would have it Costco had a La Crosse Wireless Weather Pro on sale. We purchased it and after some messing around we now have it connected to our computer and broadcasting the weather right from our home in Kirkland, Washington to the world.

The weather station came with wind speed and direction, temperature; both indoor and out, humidity; both indoor and out, barometric pressure, weather trends and much more.

On our home page there is now a blue box that displays our weather and updates every fifteen minutes. If you click on that box you'll be taken to our new weather page, www.runnerduck.com/weather/kirkland_weather.htm where more data is displayed. It's a work in progress but I'll be adding much more information as time goes on so keep coming back and checking. This should be a lot of fun to play with over the new year.
---
DigiTalk
We really prefer to start the year out on a positive note but with all the bad people out there trying to scam you over the internet it's really difficult. I guess one positive thing I noticed was that after the recent earthquake in Taiwan that knocked out a lot of the internet service in that region of the world, it reduced the amount of spam and phishing in my email box. I think that would indicate that a lot of the bad scam campaigns are coming from that part of the world.

To start the year off there is a new email going around that has a nasty virus attached to it. The email is titled "Protected Message from AOL.com user". It includes an ID number and Password. It's signed "Sincerely, Protected Mail Service, AOL.com" or it might be Gmail, Hotmail, Yahoo or MSN. It has an attachment that you really don't want to open. Not only will it infect your computer with a virus it will send it to your mailing list. To read more about this nasty email go to RaysComputerTips/Issue9.htm.
---
SITE OF THE MONTH
Being a musician (Ken) I really likes music and I especially like listening to music on the computer while I'm working away. A lot of times I'll listen to our local jazz station, KPLU, over the internet. It's a wonderful station with 24 hour jazz but their play list gets a little repetitive after a while.
I just discovered a new listening experience over the internet that is really interesting. They have all types of music and it's free. The thing that makes it so interesting is that you select a mood or dance that suits your style. Are you looking for "dark", "energetic", "positive" or "calm" music? Just click on one of the music types or anywhere in between and you will get a trail of music that should suit your mood. You can also select a year range so you can get music from a certain era. It's a lot of fun to play with and there is a lot of great music from classical, to jazz, to funk and rap.
Check out www.musicovery.com and start enjoying music a different way.
---
MARILYN'S CORNER
Suet Bird Feeder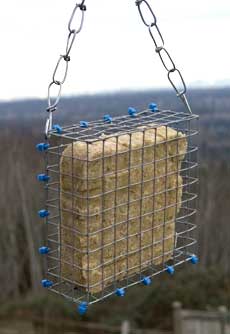 Winter is here and the birdies are hungry! It gets harder for the birds to find food in the winter but you can help. These easy to make suet feeders work really good and they make nice presents too. Just because the gift giving season is over is no reason to stop making and giving presents :-)

Here's what you'll need:
1/2" square wire mesh
Wire cutters
Small chain
Cable ties
Safety Note: Be careful, the sharp ends of the wires can scratch you!

Cut the wire mesh to fit the suet as follows:

The main body should be 24 squares by 12 squares.
Sides - 9 squares high by 9 squares wide.
Ends - 3 squares wide by 9 squares high.
Bottom - 3 squares by 9 squares.
Top - 3 squares by 9 squares.

Cut the sides, ends and bottom as shown below:
Bend using a pair of needle nose pliers or a wooden 2" X 4" and a hammer. Make the bends a sharp 90 degree bend.
Using the cable ties attach the edge of the side to the back.
Using the cable ties attach the bottom to the back.
Using the cable ties attach the top to the back but only along the back edge. The top acts like a lid to keep the suet in so the bigger birds can't pull out big chunks.
Trim all the long tails on the cable ties flush with wire cutters.
Attach a chain to opposite corners of the top, this will help it hang straight.
Put the suet in, close the lid and hang it up. Wait for the birds to show up and enjoy the show!
Remember we have all of our past projects archived on our web site at www.runnerduck.com. Just click on the Craft Egg.
---
Kids Stuff

(CLICK)

Year-End Clearance in Toys--Save up to 70%, Plus Get FREE Super Saver Shipping
Shop our Year-End Clearance and find the hottest deals on the coolest toys with savings of up to 70% on top toy brands, including Barbie, Disney Cars, Hot Wheels, Pixel Chix, Polly Pocket, Superman, and more. Plus, get FREE Super Saver Shipping (restrictions apply).
Don't forget to check out the rest of the Year-End Deals on baby products
---
The Tempos
News and CD of the Week
It's not too late to get The Tempos "Big Swing" CD!
"Big Swing" features fourteen great swing songs from the 40's and 50's. If you love the old big band swing music we think you'll enjoy this CD. It's the kind of music that makes you just want to get up and dance, you do remember how to swing don't you?
The only place you can get this CD is from our web site. Go to www.thetempos.com and click on the "Click Here" at the top of the web page or

CLICK HERE.
We only printed up a thousand of them so get yours before the are all gone!
If you'd like to get a taste of this CD just go to The Tempos web site. When you are at the Tempos web site click on the horn valve button that says "Hear our CD". Then click on the song titles to hear a little bit of each song.
The Tempos big swing band is available for hire. If you have a special event that could use the wonderful music of a classic sixteen piece big band be sure to contact kennyb@runnerduck.com. We perform all over the Seattle area for all sorts of events.
---
Album Pick of the Week

CLICK

Year-End Deals in Music: Over 200 CDs as Low as $7.99
Here's a wonderful chance to score some of your favorite music at a great price. Amazon is having an end of year blow out sale on many of the top selling CD's from 2006. This sale won't last long so hurry up and take advantage of all the great buys. This is a good opportunity to build up your music collection. Just click on the banner above and start shopping!
---
CONSERVATION TIP
How cold is your house? According to Ken's brother Ron our house is sub zero! You have to realize that he's from California and claims that it's always warm and sunny down there but we know better.
We agree that our house is cooler than a lot of others but we're trying to save a buck or two. You may not know it but for every degree you lower your temperature in the winter your heating energy consumption drops by 2 percent. Consider how much you spend to heat your house in the winter and that can be quite a savings with just a few degrees drop.
We keep our house at around 63 degrees F during the day and 54 degrees F at night. Some ask how can you stand to keep it that cold? It's easy, we dress warm and wear sweaters. We do supplement our main living area with a gas fireplace that keeps the living room and dining room around 66 degrees F. Since that's where we spend most of our time during the day it doesn't make sense to keep the whole house that warm.
Put on a sweater and turn it down, you'll be surprised at the savings!
If you have a conservation tip please send it to kennyb at runnerduck.com and we'll post it in our newsletter.
---
The RunnerDuck web site is hosted by



If you are looking for a great web hosting service with fantastic support check out www.fastwirenetwork.com. If you mention that you heard about them from RunnerDuck you will get a "Duck Deal". Just ask about your Duck Deal when you sign up.
---
RSS News Feeder
One of the best ways to get our newsletter is to have it delivered to your door step. Actually it would be delivered to your desktop!

Highlight the XML link (right click and drag over it), select Copy and paste it into your newsreader.

Or just paste http://www.runnerduck.com/runnerduck.xml into your newsreader.

A good free news reader is Awasu and you can download it at www.awasu.com.

Don't know what this is all about? Check out our little tutorial HERE!
---
---
JOKE OF THE MONTH
Ken's brother Ron sent us this joke, unfortunately it's probably no joke at all!
A leading charity realized that it had never received a donation from the city's most successful lawyer. So a volunteer paid the lawyer a visit in his lavish office.
The volunteer opened the meeting by saying, "Our research shows that even though your annual income is over two million dollars, you don't give a penny to charity. Wouldn't you like to give something back to your community through our organization?" The lawyer thinks for a minute and says, "First, did your research also show you that my mother is dying after a long, painful illness and she has huge medical bills that are far beyond her ability to pay?"
Embarrassed, the volunteer mumbles, "Uh... no, I didn't know that."
"Secondly," says the lawyer, "my brother, a disabled veteran, is blind and confined to a wheelchair and is unable to support his wife and six children."
The stricken volunteer begins to stammer an apology, but is cut off again.
"Thirdly, did your research also show you that my sister's husband died in dreadful car accident, leaving her penniless with a mortgage and three children, one of whom is disabled and another that has learning disabilities requiring an array of private tutors?"
The humiliated volunteer, completely beaten, says, "I'm so sorry, I had no idea."
Then the lawyer says, "So...if I didn't give any money to them, what makes you think I'd give any to you?"

THIS WEEK'S FREE RECIPE




Cranberry-Orange Sauce (for ham)

A lot of people had ham over the holidays and have some leftovers. This sauce is good for putting on ham at the table or it can be used as a glaze while it's baking. Either way we think you'll like it a lot.
2 Cups Fresh Cranberries
1 Cup Orange Juice
1/4 Cup Frozen Cranberry Juice Concentrate (not diluted)
2 Oranges
1 Tablespoon Sugar
Combine Cranberries, Orange Juice and Cranberry Juice in a sauce pan.
Heat to a boil, reduce and simmer 15 minutes or until Cranberries have popped open.
Add the zest of two oranges to the mix.
Remove the skin of the oranges and then remove the white membrane from the inside of the skin.
Cut up the skin and add it to the mix.
Stir in the Sugar and heat to a boil.

It makes 1 1/2 to 2 Cups.

Pour over the ham before baking or serve hot at the table for a ham sauce.

Remember, if you have a recipe you'd like to share please send it to Marilyn@runnerduck.com. We'd be happy to post your favorite recipe on our Kitchen site or in our newsletter and give you credit.

Every month we post a new recipe on our web page. Be sure and check out the New recipe at the RunnerDuck Kitchen Store.
---
COOKBOOK
SUGGESTION OF THE MONTH
"Marinades, Rubs, Brines, Cures, and Glazes"
by Jim Tarantino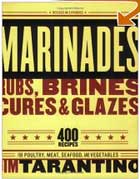 (CLICK)
If you like glazes and would like to see a bunch more then this months cookbook recommendation is a must! Not only does it have glazes but a whole bunch of great BBQ sauces.
Dirk Hemza, known as "DIGGLER" at Amazon from Livermore, California reviewed this book and wrote: "This is a great informational book on what each ingredient (spices , seasonings and jucies) does to the meat and taste. Has an abundance of great recipes. Has a lot of info on cook times and how different meats should be cooked. I'm a BBQ fanatic and consider myself a grill specialist (not quite a Master yet). I think this book will give me the knowledge to push my grilling to a competitive level. "Watch out for DIGGLER'S Meat"
---
WOOD PROJECT PLANS
DOWNLOADABLE & MAIL-DIRECT
WOODWORKING PLANS
Download WOOD Store® woodworking plans directly to your computer and start building in just minutes! OR, we'll mail them to you, your choice!


CLICK!
---
PROJECTS
Kaleidoscope
I always enjoyed looking through kaleidoscopes as a kid and figured that my grand kids would enjoy it too. I made these for Christmas presents this year and they were thrilled.
I was inspired by an article in the November 2006 Wood Magazine. I liked the idea of a wood kaleidoscope but their design was rectangle and I wanted one that was octagonal. If you like the rectangular design you can get the pattern for it at the Wood Store.
Here's what you'll need for the kaleidoscope:
6" X 9" X 1/4" Curly Maple
6" X 9" X 1/4" Padauk or Walnut
You can get a kaleidoscope kit that includes the mirrors and oil wand from Glass Crafters at www.glasscrafters.com for $15.95, "9192 Liquid Wand Acrylic Kaleidoscope Kit"
Here's what you'll need for the base:

You can order a wood kit to make the rectangular kaleidoscope and stand from Heritage Building Specialties at www.heritagewood.com or make your own. I did both and I have to say that the Heritage wood is very nice, especially the Curly Maple!
8 1/2" X 5 1/4" X 1/4" Padauk or Walnut
(2) 8" X 4 3/4" X 3/4" Maple
The first thing I did was make a sled to cut the parts on. I just used a 1/2" piece of plywood and screwed a couple of 2" X 4"s to the front and rear edge. It's about 15" long and 8" wide. Countersink the holes and install flat head screws into the 2" X 4"s from the bottom of the plywood. Make sure that you have two screws close to the fence edge and also make sure that you don't have a screw where your saw will cut through it.

Use the sled to cut the pieces
Set your tablesaw blade to EXACTLY 22 1/2 degrees. Set the fence using some scrap pieces so that the pieces you cut will be 17/32" on the inside edge.
Run the sled through the blade and check that you have enough height to cut through the 1/4" pieces.
Cut eight pieces 9" long.
Lay out two pieces of blue masking tape long enough to wrap all the way around the eight pieces.

Make sure that the pieces are tight against each other.
Set the two pieces that will be the sides of the kaleidoscope 1" back from the edge of the other pieces.
Apply glue between each piece and "roll" all the pieces together. Make sure that the tape is tight around the tube.
Let the glue dry for 24 hours so the tube is good and solid.
You should now have something that looks like this:
Using a scraper, scrape the edges to remove any glue and smooth the edges.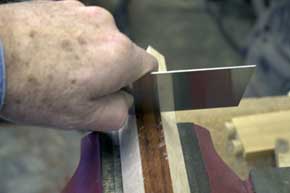 Keep the scraper perfectly flat along the sides.
To drill the holes place a spacer inside the tube to prevent tear out. Drill the center top and bottom holes 5/8" diameter, 1" back from the edge using a forstner bit.

Find the plans for the drill press table at www.runnerduck.com/drill_press_table.htm to align the holes.
To see the rest of this project go to www.runnerduck.com/kaleidoscope/kaleidoscope.htm
---
If you have a project that you would like to share please send us an email and we'll help get it published in the RunnerDuck review. We are looking for woodworking, gardening, crafts and kids projects so send us your thoughts at kennyb@runnerduck.com.
---
---
Tell A Friend About The "Duck"
One of the best ways we build our reader base is by good people like you telling your friends about "The "Duck". If you know someone that you think would like our newsletter just
Send This Newsletter To a Friend

Privacy Statement: This information does not go to anyone but the person you entered above. We do not collect any information from this form.
---
If you want to talk about something just drop us a line to kennyb@runnerduck.com any time, we like to talk about most anything. We are always looking for content for our newsletter so if you have something to add we'd love to publish it. Assuming it meets our strict family oriented requirements!

All rights reserved, RunnerDuck Productions,
2000, 2001, 2002, 2003, 2004, 2005, 2006
RunnerDuck and its logos are property of
RunnerDuck Productions.
All other logos are property of the individual companies.
We can be contacted at kennyb@runnerduck.com.