We have a bar-b-que that works good but looks really bad. It has wood wings on both sides and a wooden handle across the front. All of them were faded gray and growing moss.
It was time to do something but replacing it was not an option. With the BBQ season slowing down it seemed like the perfect fall project.
We had just been replacing some cedar deck boards and had some left over 5/4" X 4" boards. They would be perfect for making my wings a little bigger.
5/4 decking boards are radiuses on the edges so I rounded over the ends with a router bit to match the edges.

Round Over/Beading Bit Set
I stained the boards and finished them with a good outdoor varnish before I screwed them in place.
I drove four small nails in the bottom of each board to keep them off the bench while the varnish dried.
The original design had screws going down through the boards into the metal supports. With the longer pieces they would not have been symmetrical if I lined up the screws with the original holes.
Instead I added a couple of 2" X 2" pieces to each side and screwed into the wing boards from the bottom. This made for a much cleaner look.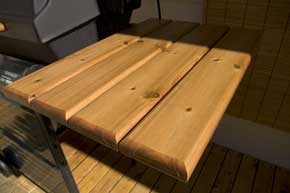 Next I made a new handle for the top. I just happened to have a nice piece of "scrap" birds-eye maple that was 1" X 1" X 30".
I routed a 3/8" wide X 1/4" deep slot down the middle, lengthwise.
I used a 3/8" round-over bit along all four edges to make it easy on the hands and give it some detail.
I drilled holes for the screws and counter bored holes for the heads so that they'd be recessed.
I made new standoff's for the handle using 1" dowel's cut to 3" long. I drilled a hole through the center of each one to clear the original screw.
A little stain and varnish and it was good to go.
After I got the new wings and handle on the BBQ looked so bad that I painted the lid with high temperature paint. It now looks better then new.
That's about it. We hope you liked this project. If you build it and your friends ask where you got such a clever idea, please tell them that you got it at RunnerDuck.com.
If any of you have wood projects to share I would be happy to put it into a format for our newsletter. Just send me an email at kennyb@runnerduck.com and lets see what we can come up with. Thank you!