This project appeared in our March 31, 2007 Newsletter.
This is a simple little project that would be fun to do with a child or grandchild. It's sort of a cross between a bird feeder and a suit feeder. The idea is that you fill the holes with a mix of peanut butter and bird seeds. The birds then pick it out of the holes. It sort of makes them work for their supper.
Here's what you'll need:
A piece of wood 9 1/2 X 9" X 3/4"
Cedar shingles
1/4" dowel 9" long
Glue
Brass brads 3/4" long
2 Eye screws
12" small chain
I used a piece of pine but just about any wood will do.
Cut the wood 9 1/2" wide by 9" high.
Layout your drill and cut marks before you cut the peek.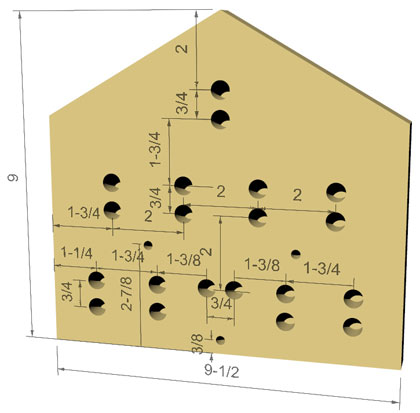 Using a miter saw or hand saw, cut the roof peek 30 degrees to the center.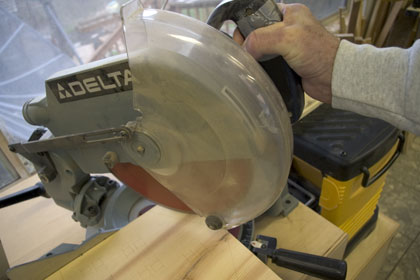 Use a 1/2" Forsterner bit to drill the large holes and a 1/4" bit for the perch holes.

16-Pc. Forstner Bit Set
Set the depth on the drill press so that it's about 1/8" shy of the back of the board.
Using the drill table you built from the plans on our web site, www.runnerduck.com/drill_press_table.htm, set it up so you can drill all the holes in one row at a time.
I made the roof from some old cedar shingles I had. I cut them 2 1/2" wide. I made three courses of shingles with each course spaced back from the previous one by about 1 1/2".
I set the tablesaw to 30 degrees to cut the matting ends.
Glue the shingles to the roof and tack it in place with a couple of brads on each side.
I had Marilyn do some wood burning to add character to the front of the feeder.

5 in 1 Woodburning Tool Kit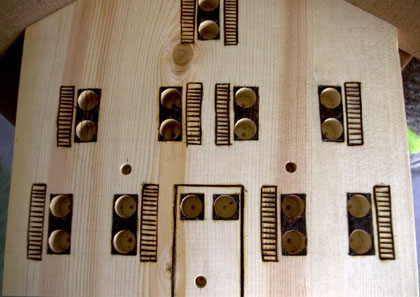 Cut and glue the perch's into the holes.
Screw a couple of eye screws into the roof and attach a chain.
Mix up some birdseed and peanut butter, fill the holes and wait for the birds to arrive!
That's about it. We hope you liked this project. If you build it and your friends ask where you got such a clever idea, please tell them that you got it at RunnerDuck.com.