We're going to do something a little different this week. We're going to give you three decorating ideas instead of an actual recipe. Remember though, we have lots of free recipes on our web site at www.runnerduck.com and click on the "Recipes" Egg.
CUPCAKE #1
First we are going to make some cupcakes. Mix up your favorite cake mix and make some cupcakes.
On half of them sprinkle green colored coconut for grass on top of white frosting.
Put jelly beans in the "grass" for eggs.
Tuck some string licorice in the side and run it to the other side and over the top for a handle.
There you have a cute little Easter basket.
CUPCAKE #2
On the other half of the cupcakes cover it with white frosting and coconut.
Make a rabbit face using gumdrops for the eyes and nose and string licorice for the whiskers.
Use finger sandwich cookies pressed into the back edge of the cupcake standing on end for the ears.
BUNNY CAKE
Now here's a bunny you wouldn't mind eating.
Next we're going to make a bigger bunny using a two-layer cake.
Bake two round cakes using your favorite cake mix.
Cut one of them into three pieces using a pattern like the seams on a basketball.


Frost the cakes with white frosting and cover it with shredded coconut.
Decorate the eyes and nose with gumdrops and the whiskers with string licorice. You can get as fancy as you want by using pink frosting in the ears and other adornments.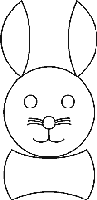 Now get baking and enjoy your Easter Holiday.

These are recipes that have appeared in our news letter or on our web site. If you have a recipe that you would like to add just drop a line to kennyb@runnerduck.com.