Here's another one of those simple projects that look great and the results are especially fun for little kids. This simple little stool gives children a place to sit and join in with the adults when everyone is sitting around having a good time.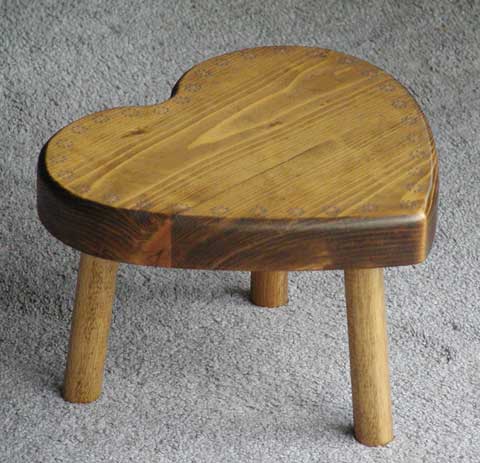 Here's what you'll need: 2" X 10" X 12" piece of Pine.
1" dowel 18" long.
Cut a heart shape out of the 2" X 10" piece of pine. Use a paper pattern for best results.
Drill three 1" holes in the bottom approximately 1 1/2" in from the edges and about half way through. For more stability you can drill these holes at a 10 degree angle but cutting feet level gets to be a little tricky.
Cut the 1" dowel into three equal pieces, approximately 6" long.
Glue the dowels into the base. Make sure they are seated good.
Route a radius around the top of the seat for a nice smooth edge.
Sand, stain and varnish. You can add some simple designs around the top to make it a little fancier.
That's it! Now have a party and invite that little person to join in.