This project appeared in our September 5th, 2003 Newsletter.


One of the more awkward things to handle around the shop is big sheets of plywood. With my bad shoulder it's almost impossible but with this handy device it's a breeze. Put the plywood in the notch, pick it up with the handle and balance the top with your other hand. Now that's a lot better than the alternative!

Here's what you'll need:

24" X 16" X 3/4" plywood
1" dowel 6" long
1 1/2" screws
2 1/2" screws
Glue
Cut out the two sides using the dimensions shown. It should be 24" long with a full radius on top.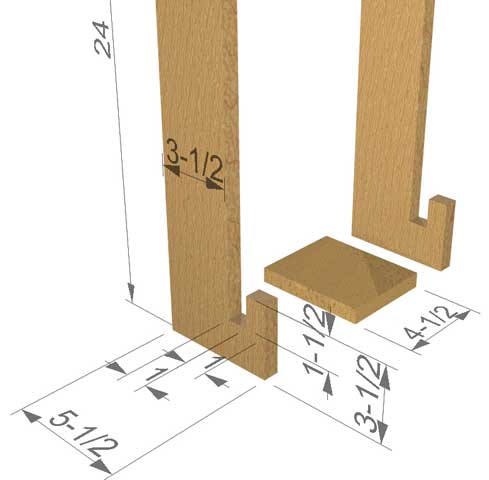 Cut the bottom 4 1/2" X 5 1/2".
Drill two 1" holes centered 1 3/4" down in the top of the handle.
Glue and screw the bottom to the sides using the 1 1/2" screws.
Glue and screw the handle to the sides using the 2 1/2" screws.

That's all there is to it. Just center your piece of plywood on the carrier and get to moving.

We hope you've enjoyed this project and have good success with it. Remember, if you ever have any problems with our projects just drop us a line and we'll try to help. Since we build every one of these projects we have a pretty good idea of how to get through them. We also make lots of mistakes so we can help avoid them.