This project appeared in our July 3, 2010 Newsletter.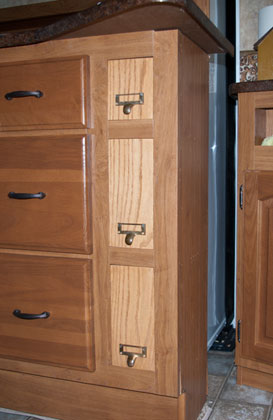 We recently purchased a new fifth wheel travel trailer and have been making improvements to it. Some of the cubby holes that were built in are pretty much useless. There were three such cubby's that were crying out for some improvement.
After studying the situation we decided that they would be a perfect place to store spices if there were some drawers there. I took measurements and went to work in my woodshop.
Since this is a custom project I won't provide any dimensions since every situation will be different. I'll just show you what I did and how they went together.
First I cut out the fronts to fit the holes in the cabinet. I allowed about 1/32" clearance all the way around.
In order to maximize the space I made the sides out of 3/16" plywood and the bottom out of 1/4" plywood.
I routed the fronts to accept the 2 1/2" high sides.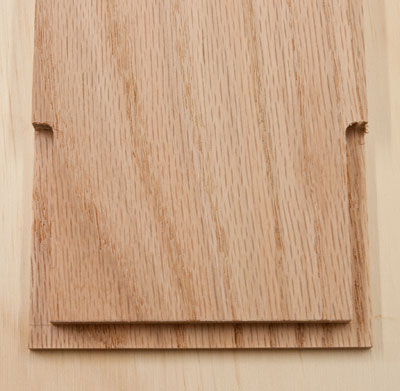 I left a radius at the top of the notch and rounded over the top of the sides to fit.
I cut the sides, back and bottom from plywood.
To assemble them I glued and nailed them together with small brads.
To make sure that I didn't split any wood I pre-drilled holes for each brad.
After they were glued and nailed I clamped them to dry.
I had to modify the holes in the cabinet a little bit by adding a base and side pieces to fill the gap between the front and the sides.
I had some old library card drawers that had some nice apothecary style handles on them. They were a nice touch to the finished drawers.
To hold the drawers in place I used rare earth magnetics. I counter drilled a hole in the back of the drawer and epoxied a magnet into it.
I put a screw into th back wall of the cubby hole for the magnet to attach to. The magnetics hold the drawers in tightly while we are traveling but the drawers are easy to pull out.
I realize this project is not for everyone but I always hope that my projects inspire you to think outside the box and make something nice for yourself.
That's about it. We hope you liked this project. If you build it and your friends ask where you got such a clever idea, please tell them that you got it at RunnerDuck.com.
---