This project appeared in our February 13th, 2004 Newsletter.

Spring is a time to start thinking about those little birdies. They are going to be looking for a nice place to set up house and we think this one is pretty neat. It's a complimentary project to the teacup bird feeder we had in our May 16, 2003 newsletter, www.runnerduck.com/05-16-03.htm.

Here's what you'll need:

8" X 3/4" X 18" cedar
6" X 1/2" X 36" cedar
1/4" dowel 2" long
4' of 1/2" water pipe threaded on one end (or both).
1/2" pipe flange
1/2" X 1" pipe stub
1/2" 15 degree pipe elbow
Nails
Glue
Paint
Here's an exploded view of this project. Click on the picture for a bigger view.

Cut all the pieces from 1/2" cedar as shown in the exploded view above for the bird house part of this project.
Glue and nail the pieces together.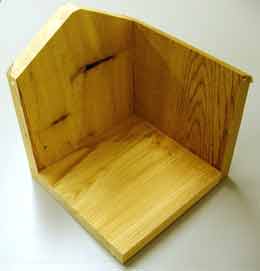 You should now have a birdhouse without the front.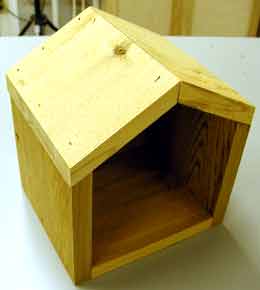 Cut the teapot, handle and spout from 3/4" cedar using these patterns. Click on the picture for a full-size printable pattern.


Route the edges of the handle and spout with a 3/4" round over bit.
Route all the edges of the teapot except for the front of the spout.
Sand all three pieces.
Drill a 1 1/8" hole centered on the teapot about 4" up from the bottom.
Drill a 1/4" hole, two thirds of the way through, centered 3/4" down from the bottom of the 1 1/8" hole.
Cut a 1/4" dowel 2" long.
Glue and nail the teapot onto the front of bird house.


Fill the holes with wood putty and sand.
Prime with a couple of coats of a good primer. Cedar has a tendency to bleed through the paint.
Paint the teapot to look any way you like.
Attach a pipe flange centered on the bottom of the birdhouse.
Screw in a short pipe stub then a 45 degree elbow and a 4' piece of pipe.
Put it in the ground next to the teacup bird feeder.

That's it! Everyone will wonder where you got such a cleaver idea. Be sure and tell them that it came from RunnerDuck :-)

We hope you've enjoyed this project and have good success with it. Remember, if you ever have any problems with our projects just drop us a line and we'll try to help. Since we build every one of these projects we have a pretty good idea of how to get through them. We also make lots of mistakes so we can help you avoid them.

For a great selection of woodworking supplies and tools check out Rockler, Great Prices/Great Selection!