This project appeared in our April 1, 2006 Newsletter.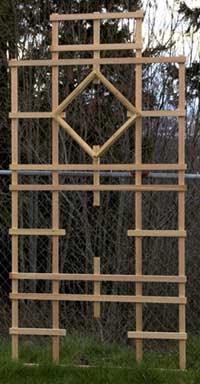 Spring is here and it's time to start thinking about flowers. One of the best ways to display flowers is with a nice trellis and we think this one fits the ticket just fine. While we think we have a pretty nice design you can certainly do your own. We just want to get you excited about making one of your own. They are really pretty simple and fun to make.
Here's what you'll need:
Cedar 1" X 2" X 8'
Outdoor glue
Nails
The first step is to cut all the pieces. Here's the cut list:
(2) A - 25 1/4"
(6) B - 48"
(2) C - 84"
(2) D - 96"
(1) E - 19"
(2) F - 16"
(6) G - 15 1/2"
(6) H - 17 3/8"
Now lay out the pieces in a large area approximately as shown. Cedar generally has two sides and I put the rough side out.
Place all the pieces so the same side is facing down. Put the front pieces down and lay the back pieces on top.
I left 1/2" overhang on every piece. To keep them all even and not have to measure each piece I used a 1/2 in piece of scrap wood.
Position the outside pieces and use a tape measure to square it up. Measure from corner to corner, both ways and the dimension should be the same.
Glue and nail all four corners. I used my pneumatic nailer, it worked great!
Porter Cable 18 Ga., 2'' Brad Nailer Kit, Model #BN200A
Now lay out the pieces per the following dimensions, glue and nail each piece. All vertical pieces are behind the horizontal pieces. Check your pieces for level by measuring from the top down once you've established one end of each piece.
I made the diamond separately and then nailed it to the trellis.
Using a strap clamp glue the corners together.

Bessey Variable Angle Strap Clamp
I did not nail the corners since they will get nailed to the trellis.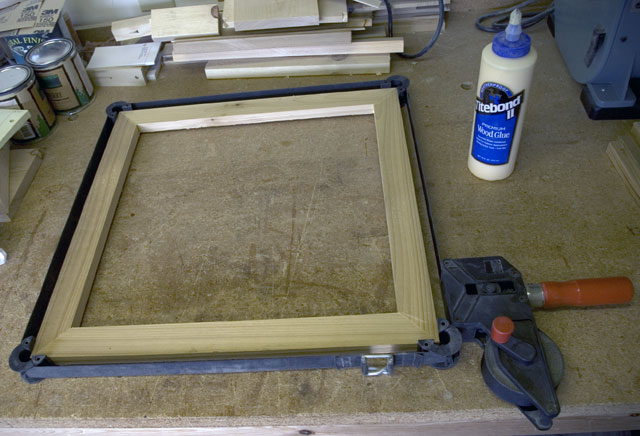 You'll need to add two small pieces of wood to the trellis to mount the diamond flat.
We added a small 1/2" X 1/2" detail to the front of the diamond. Like I said you can dress yours up any way you like.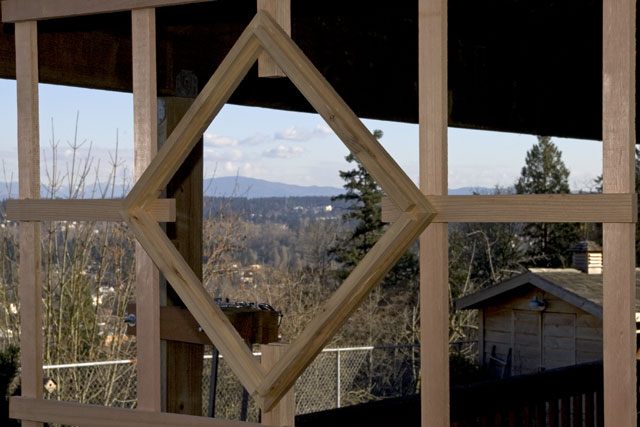 Now find a nice place to mount it and start growing some flowers.
That's about it. We hope you liked this project. If you build it and your friends ask where you got such a clever idea, please tell them that you got it at RunnerDuck.com.