What's New This Week? Those of you who have ordered and received kitchen utensils from our Wood 'N Wares store have been raving about the quality of the hand crafted hard maple tools. If you haven't checked them out yet we'd encourage you to do so, they are really quite nice. Jean and Bob, who make these fine kitchen tools in Montana, are busy creating some great new tools for you and working on some new offers. If you've ever bought one of these utensils you should know that they have a very nice guarantee.

"If you've followed our simple care instructions and your Wood 'N Wares purchase should break, we hope you'll let us know. Occasionally a spoon develops a stress crack if the wood has been dried too quickly after harvesting. Because we purchase from various hardwood mills, we have no control over the drying process. However, we will honor our guarantee. We will replace any utensil that breaks through no fault of yours. We ask that you call or email before returning the broken item for replacement."

Now there's a guarantee that's hard to beat! Keep checking our Wood 'N Wares site for updates that will take effect February 1st.
---
DigiTalk
What a mess the email system is in these days. The current virus going around is a real doozy! If you get emails with the subject of Hi, Hello, Test and about half a dozen other subjects and they have a 31K to 33K file attached DELETE them! Do not open them and especially do not open the attached file.

This virus has propagated at a rate much faster than ever expected. The dangerous thing about it is that you may get an email from a friend with the subject Hi and a file attached. More than likely it is not from your friend but just a propagation of the original virus that may have infected your friends computer.

Have you been receiving virus infected emails from your friends and family? Here is a great explanation of what is actually going on. I highly recommend you take a moment and read it. http://ask-leo.com/archives/000065.html

If you've sent us an email in the past week with a subject of Hi, Hello or anything similar to that we probably deleted it. If you did send us one with that subject then please send it again with a different subject because until this virus dies out we will not open any email with these subjects.

This is just one more reason why it makes sense to use RSS (really simple syndication) to have your "Duck" delivered to your desktop. Read all about it at www.runnerduck.com/rss_info.htm.
---
SITE OF THE WEEK
Any idea what next Monday is? Let us give you a hint. If the sun causes this fuzzy varmint to see his shadow he'll be scared back into his hole for another six weeks of winter. Yep you guessed it; it's Groundhog Day 2004 already. As nasty as this winter has been lets all hope that there is no shadow and that winter will soon come to an end.
We found this really neat site that is all about Groundhog Day. We hope you enjoy it as much as we have, www.groundhog.org
---
MARILYN'S CORNER
Groundhog Treats
This project could probably go under the recipe heading but it's so much fun that we though it should go here. These are great if you are having a Groundhog Day Party or you could even serve them the day before at your Super Bowl Party. Have the kids help you make them, they'll have a ball.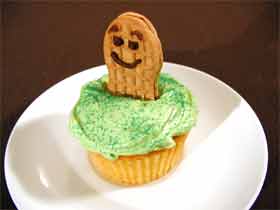 Here's what you'll need:
Cake mix
Frosting
Cupcake papers and pan
Nutter Butter cookies
Mix up a batch of cake mix and make some cupcakes.
Frost the cupcakes with green frosting. You can also use green coconut to make it look like grass.
Using chocolate frosting draw a face on the Nutter Butter cookie.
Poke the cookie down into the center of the cupcake.
That's it! Be sure to take one outside on the morning of Groundhogs Day and see if there is a shadow from your groundhog. If there is then we'll have another six weeks of winter weather. You may as well sit back, eat the cupcake and enjoy it ;-)
We hope you enjoy Marilyn's Corner and look forward to all the fun things she brings you each week. If you have a fun project that would be suitable for our newsletter we'd love to share it with our readers. Just contact marilyn@runnerduck.com and we'll do the rest.
Remember we have all of our past projects archived on our web site at www.runnerduck.com. Just click on the Projects or Kids Only Eggs.
---
Kids Stuff
Here's a great deal for all you LeapPad owners to upgrade some of your software. For a limited time you can get free shipping on all LeapFrog software! Plus, when you buy two select LeapPad books priced at $14.99 (including LeapStart, Phonics, Leap 1, Leap 2, LeapPad Plus, and Quantum Pad), you can get a third book for free! At checkout, enter promotional code BY2GT3LEAPBK.

Click Here
---
The Tempos
News and CD of the Week
Our friend Jeff F. from Texas sent us some more musician jokes. After ranking on drummers, trombone players and trumpet players it's time to pick on the singer in the band.
Why is the ideal singer only three feet tall?
Because she is the perfect height for the band to rest their beer glasses on top of her head.
Why is a bad singer like a bomb?
Because when you hear it it's too late.
Why do singers never say anything bad about musicians?
Because they're too busy talking about themselves.
Musician: How's your singing career coming on?
Singer: Great! Lately I've been concentrating on songs from the Southern states of America. My audience seems to prefer them.
Musician: How do you know they prefer songs from the South?
Singer: They're always putting cotton in their ears!
Singer: So, what do you think of my singing?
Band leader: It could be worse.
Singer: That's not a very nice thing to say.
Band leader: Okay, it couldn't be worse.
What do you say when a singer reaches the stage?
The chain is too long.
---
The Tempos big swing band is available for hire. If you have a special event that could use the wonderful music of a classic sixteen piece big band be sure to contact thetempos@runnerduck.com. We perform all over the Seattle area for all sorts of events.
Album Pick of the Week
The Billy May Sessions

Already this year we've lost a great musician. Billy May died on Jan 22, 2004, at the age of 87 in San Luis Obispo, California. His arrangements for big band are fantastic. This week's CD features his big band backing up Nat King Cole in the early 1950's. One person that listened to this CD wrote, "Even though these tracks were recorded in the early 1950's before the advent of Stereo, they still sounded amazingly fresh and alive. Whoever did the digital remastering on this set deserves a special accolade. They did a wonderful restoration job. There are an incredible number of really fine songs in this collection. I am so pleased I got it; and I highly recommend it to Nat King Cole fans and to those who might be interested in becoming one."



(CLICK)
Remember, we have a link on our web site, www.runnerduck.com, to our ever popular Grammy® Shopper site. If you haven't been there yet just click HERE to see all the 2003 Grammy® winners complete with links to purchase any one of them.
---
RSS News Feeder
One of the best ways to get our newsletter is to have it delivered to your door step. Actually it would be delivered to your desktop!

Right click on the XML link, select Copy Shortcut and paste it into your newsreader.

Don't know what this is all about? Check out our little tutorial HERE!
---
Questions and Answers
Welcome to our Q&A center.
Got questions? We've got answers.
Got answers? We've got questions.
Q: Please keep your suggestions for dust control coming. We'll be doing an article on dust control in the near future and would love to include your suggestions. Just send your suggestions to projects@runnerduck.com, thank you!
---
CONSERVATION TIP
While this might be a tad early in some parts of the country, as the weather starts to thaw out be sure to check you outdoor water faucets. Just because they didn't burst during a hard freeze doesn't mean that they weren't damaged. Open and close each one and make sure that it indeed shuts off. If it doesn't, have it fixed before you go to the poor house with a big water bill.
If you have a conservation tip please send it to conservation@runnerduck.com and we'll post it in our newsletter.
---
The RunnerDuck web site is hosted by



If you are looking for a great hosting service at a terrific price check them out at www.fastwirenetwork.com. If you mention that you heard about them from RunnerDuck you will get a $5.00 per month "Duck Discount" for as long as you have your account.

THIS WEEK'S FREE RECIPE




Crab and Swiss Crisps

It's Super Bowl time and that means snack food. Here's a really good recipe that all those game watchers will enjoy.
1 Can (7 1/2 ounces) Crab, drained and flaked
1 1/2 Tablespoons Sliced Green Onions
1 1/4 Cup Shredded Swiss Cheese
1/2 Cup Mayonnaise
1 teaspoon Lemon Juice
1/4 teaspoon Curry Powder
36 Crackers
Combine all ingredients and spread on crackers or mini breads.
Heat in the broiler until the cheese is melted.

Just perfect for game day, simple, quick and really good!

Remember, if you have a recipe you'd like to share please send it to marilyn@runnerduck.com.

Every month we post a new recipe on our web page. Be sure and check out the NEW February recipe on Monday at the RunnerDuck Kitchen Store.
We'd be happy to post your favorite recipe there or in our newsletter and give you credit. Just drop a line to marilyn@runnerduck.com.
---
COOKBOOK
SUGGESTION OF THE WEEK
"Valentine Treats: Recipes and Crafts for the Whole Family"
by Sara Perry, Kathlyn Meskel

You'd think that with the Super Bowl that we'd try to find you a cookbook with lots of snacks in it but the reality of the fact is that you'd never get it in time for the game. So, we thought we'd get a head start on Valentines Day. This is not only a good recipe book but a fun craft book too. Jeremy and Amy Graham from Phoenix, AZ reviewed this book and wrote, "While specifically for Valentines Day, this book could be used at almost anytime of the year...your loved one's (and you too) deserve to be acknowledged more than once a year...and romance, love, and self-healing magic can certainly be enhanced utilizing some of the ideas in this book!!!

It's certainly refreshing to find a book with quality projects and recipes that are classy and fun without being Martha Stewart caliber snooty and darn hard to actually do in today's busy work-a-day world!! This book comes highly recommended for both the "normal crafter" and the Magical one!"


Click Here

Be sure and visit the RunnerDuck Cookbook Store for other great savings on cookbooks and cooking supplies.

Centering Tool
Here's a handy little tool for marking the center on the edge of a board. It will work on just about any thickness of board.
Here's what you'll need:

1 1/2" X 3" X 1/4" hard wood like Maple
3/4" dowel
Glue
(2) #8 X 1" flat head screws
Cut a piece of 1/4" maple 1 1/2" X 5".
Carefully mark the board for two holes centered 1/2" in from each end. I used a knife to make a precise mark.


Drill pilot holes for the screws at these locations. Counter sink them for the screws.
Cut two 3/4" dowels 1 1/4" long. Be careful to cut them perfectly square on the ends.
Mark the center on one end of each dowel. A good way to do this is with dial calipers. Mark from one side then the other, then 90 degrees from the two opposite sides.


Drill a pilot hole in each dowel for the screws. Center punch the holes for better accuracy.
Glue and screw the dowels to the board.
Lay a steel rule between the two dowels and draw a line on both sides of it near the middle of the tool.
Move the rule to the opposite sides of the dowels and do the same thing. This should give you a good center for your marking hole.


Center punch your mark and drill a 1/16" hole through.
From the top side of the tool drill a 1/8" hole 2/3 of the way through. This should give your pencil clearance for the wood taper and allow the lead to stick through a tiny bit. You may have to adjust this hole size and depth for fit your pencil.
You should now have a centering tool that looks something like this.


As shown in the top picture, just straddle your wood piece and mark the center.

For a great selection of woodworking supplies and tools check out Rockler, Great Prices/Great Selection! They are in the middle of a huge sale with savings up to 50% off.

If you have a project that you would like to share please send us an email and we'll help get it published in the RunnerDuck review. We are looking for woodworking, gardening, crafts and kids projects so send us your thoughts at projects@runnerduck.com .

---
JOKE OF THE WEEK
Our friend Dave K. sent us these groaners, you can thank him ;-)
1. I went to a seafood disco rave last week.... and pulled a mussel.
2. A jumper cable walks into a bar. The bartender says "I'll serve you, but don't start anything."
3. I went to buy some camouflage trousers the other day but I couldn't find any.
4. A dyslexic drunk staggered into a bra.
5. A man walks into a bar with a slab of asphalt under his arm and says: "A beer please, and one for the road."
6. Two aerial antennas meet on a roof, fall in love and get married. The ceremony wasn't much, but the reception was excellent.
7. A drunk walks into a bar. "Ouch!" he says.
8. "Doc, I can't stop singing 'The Green, Green Grass of Home.'"
"That sounds like Tom Jones Syndrome."
"Is it common?"
"It's Not Unusual."
9. Two cows standing next to each other in a field, Daisy says to Dolly "I was artificially inseminated this morning."
"I don't believe you," said Dolly. "It's true, no bull!" exclaimed Daisy.
10. An invisible man marries an invisible woman. The kids were nothing to look at either.
11. Two hydrogen atoms walk into a bar. One says, "I've lost my electron."
The other says, "Are you sure?"
The first replies, "Yes, I'm positive..."
12. Deja Moo: The feeling that you've heard this bull before.
13. A man takes his Rottweiler to the vet and says, "My dog's cross-eyed, is there anything you can do for him?"
"Well," says the vet, "let's have a look at him." So he picks the dog up and examines his eyes, then checks his teeth. Finally, he says "I'm going to have to put him down."
"What? Because he's cross-eyed?"
"No, because he's really heavy."
14. I went to the butchers the other day and I bet him 50 bucks that he couldn't reach the meat off the top shelf. He said, "No, the steaks are too high."
15. Two Eskimos sitting in a kayak were chilly; but when they lit a fire in the craft, it sank, proving that you can't have your kayak and heat it too.
16. What do you call a fish with no eyes?
A fsh.
---
If you want to talk about something just drop us a line at duckmaster@runnerduck.com any time, we like to talk about most anything. We are always looking for content for our newsletter so if you have something to add we'd love to publish it. Assuming it meets our strict family oriented requirements!
---
To unsubscribe just click HERE. or send an email to unsubscribe@runnerduck.com.

duckmaster@runnerduck.com
Tell A Friend About The "Duck"
One of the best ways we build our reader base is by good people like you telling your friends about the "Duck". If you have a friend that you think would like our newsletter just fill in the following form. Privacy Statement: This information does not go to anyone but the person you entered above. We do not collect any information from this form.
All rights reserved, RunnerDuck Productions, 2000, 2001, 2002.
RunnerDuck and its logos are property of
RunnerDuck Productions.
All other logos are property of the individual companies.
We can be contacted at duckmaster@runnerduck.com.