What's New This Week? The 117th annual trek to Gobbler's Knob for Punxsutawney Phil's Official Prognostication will happen this Sunday. It's hard to believe that it's that time already but much to Bill Murray's chagrin Groundhog Day is here again. While it's fun to watch the event from afar we think it would be really fun to be there some year. The town of Punxsutawney, Pennsylvania rolls out three days of fun and games for the thousands of visitors that show up every year. To check out the events and schedules go to, what else but, www.punxsutawneyphil.com.
By the way the weather forecast for Groundhog Day is cloudy and warmer, highs 40 to 45 after a 40% chance of snow the night before. With the mild winter we've had here in Seattle I don't think it really matters if he sees his shadow or not. I'm sure the cold people in the Midwest, East and Southwest have a different opinion.
---
DigiTalk
There have been a couple of people asking this past week about copying their address book from Outlook to another computer or for keeping it safe. There are a couple of ways you can do it. From the "File" drop down menu select the Export function which allows you to save your selected files to the folder you choose. You can also use the Archive function which does basically the same thing. Once you've created a copy of your .pst file you can put an additional copy on a floppy, if there is room, or a CD for safe keeping.
When you want to restore the information to your Outlook use "Import" and select "Import from another program" and then on the next box select "Personal Folder File .pst". Follow the rest of the prompts and you should be good to go.
---
SITE OF THE WEEK
We are always looking for software that provides the most bang for the buck or in this case lack of bucks. How would you like a drawing program that can do many of the things the big boys can do for free? Philip Staiger at staigerland.com, the same guy that pointed us to Carrara 3D and the Amapi modeling program, told us about this drawing program and we've found it to be top notch!
It's not a photo program that lets you take red eye out automatically or other photo retouch stuff, it is truly a drawing program. There are a whole bunch of canvases, brushes, effects and pallets. You can make pictures that look like a water color, oil painting or charcoal drawing. There are so many features I can't even begin to tell you about them all. The best thing is to try it for yourself. If you have children it's a great program to get them started in computer art.
Don't let the funny name of Dogwaffle throw you off. This is a very powerful program. There is also a paid version available for the modest price of $45.00. If you've ever had a desire to draw using the computer this is the best place to start that we have ever found.
You can find Dogwaffel at, www.squirreldome.com or www.thebest3d.com. Philip has started a new gallery at, www.thebest3d.com/dogwaffle/mygallery/index.html which will give some ideas for kids to start experimenting with dogwaffle and digital images.
If you have a favorite site please send it to us so we may share it with the rest of our readers. Send it to duckmaster@runnerduck.com.
---
MARILYN'S CORNER
Valentine Puzzle Picture
This picture makes a great Valentines gift for your sweetie. It's simple to make but brings years of wonderful thoughts.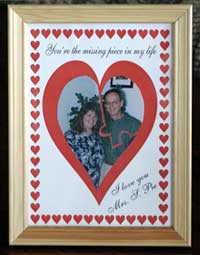 Here's what you'll need:

5" X 7" Picture Frame
A picture of you and your sweetie
Scissors
Glue
Print the picture we have for you at www.runnerduck.com/images/heart.gif on some nice paper.
Cut a picture of you and your sweetie into the shape of a heart to fit inside the big heart you just printed.
Cut the picture apart making it look like a puzzle piece.
Glue the picture puzzle pieces onto the printed heart.
Sign the picture and put it into a frame.

This gift will have special meaning for years to come.

We really hope you enjoy Marilyn's Corner and look forward to all the fun things she brings you each week. If you have a fun project that would be suitable for our newsletter we'd love to share it with our readers. Just contact marilyn@runnerduck.com and we'll do the rest.

Remember we have all of our past projects archived on our web site at www.runnerduck.com. Just click on the Projects or Kids Only Eggs.
---
We thought we'd leave this special up for another week in case you missed it last week. You can now pre-order Harry Potter and the Order of the Phoenix. Muggles everywhere can go to Amazon.com to ensure they'll be among the first to receive a copy of this wildly anticipated book when it hits the streets. Just click on the link below to reserve your copy.

---
The Tempos
News and CD of the Week
The Tempos just got some new music for their repertoire. We want to be ready with some new music for the summer concert season. It will probably take us that long to get it polished up enough to perform in public.
Don't forget that The Tempos big swing band is available for hire. If you have a special event that could use the wonderful music of a classic big band be sure to contact thetempos@runnerduck.com.
Everybody has at least a few CD's or albums that take a slight turn from their normal listening habits. One of the things that is highly recommended for a true audiophile is to have certain music essentials. The link below will take you to a really good list of those essential CD's that you should have in your collection. Check them out and start building your "essential" collection today.

Click Here
---
CONSERVATION TIP
Most grocery stores have a place to recycle you grocery bags, both paper and plastic. Add a line to your grocery list that says "return grocery bags" to help you to remember. An even better idea is to use your own cloth bags. They are easy to carry because they usually have a nice big handle. When you finish putting away your groceries just put all the bags into one bag and they are ready for then next trip to the store.
If you have a conservation tip please send it to conservation@runnerduck.com and we'll post it in our newsletter.
---
The RunnerDuck web site is hosted by



If you are looking for a great hosting service at a terrific price check them out at www.fastwirenetwork.com. If you mention that you heard about them from RunnerDuck you will get a $5.00 per month "Duck Discount" for as long as you have your account.
---
JOKE OF THE WEEK
NEWS FLASH: OLE DIED
To those in North Dakota, Minnesota and for that matter the rest of the country, including Canada, I must report the Sad News that Ole was SHOT ...
He was up by the Canadian border on his 4-wheeler cutting some trees when some quick on the trigger rangers looking for terrorists spotted him.
According to the news reports, the rangers shouted to him over a loudspeaker, "Who are you and what are you doing?"
Ole shouted back, "OLE..... BIN LOGGIN'!"
Ole is survived by his wife Lena and Lena's good friend Lars.
---
The RunnerDuck Goodies Store
Check out all the great products in the RunnerDuck Goodies Store. Show the world that you love RunnerDuck!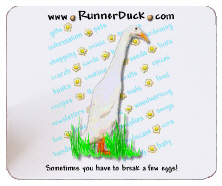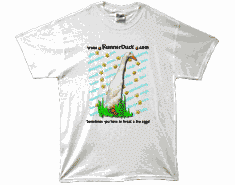 There is lots of other cool stuff at the RunnerDuck Goodies Store.

THIS WEEK'S FREE RECIPE




Orange Cake

This week's recipe is for those lactose intolerant people who still want to eat some really good sweets. Sheila from Australia, one of our newest subscribers, sent us this recipe and says, "This is a really ripper recipe, quick, easy and cost effective." While we haven't tried it yet it sure does sound good.


4oz Milk Free Margarine
8oz Caster Sugar, (what is caster sugar?)
3 Eggs
1 Orange, cut in half
1/4 Cup Soy Milk
8oz Self Raising Flour
Chuck the whole lot (only 1/2 of the orange) into a blender, blend well and pour into a greased baking tin 8" sq.
Put into 180 degree C (350F) oven for 35-40 minutes until firm to touch and cake has come away from the sides of the pan.
Let cool.
Juice other 1/2 of the orange and mix into 1 cup icing sugar (powdered sugar).
Add zest from orange and ice cake.
Cake freezes well without icing.
Thanks a bunch Sheila for this great sounding recipe.
Remember, if you have a recipe you'd like to share please send it to marilyn@runnerduck.com.
Every month we post a new recipe on our web page. Be sure and check out the NEW February recipe at the RunnerDuck Kitchen Store.
We'd be happy to post your favorite recipe there or in our newsletter and give you credit. Just drop a line to marilyn@runnerduck.com.
---
A GREAT DEAL FOR RunnerDuck SUBSCRIBERS

Cold winter mornings seem to lend themselves to breakfasts made in your very own kitchen. Start with our Down East Breakfast Gift Set which includes a pancake and waffle mix, blueberry jam, maple syrup, and coffee beans. Or perhaps toasted bagels, poached eggs, and freshly brewed coffee.
Every week we bring you some great savings from Cooking.com. These will change every week so we encourage you to check them out. Just use the link below to start saving.


(click)
---
COOKBOOK
SUGGESTION OF THE WEEK

(click)


Speaking of lactose intolerant, we found a really good cookbook for those of you that suffer the pains of not being able to enjoy all the great desserts that are eaten by everyone around you. 50,000,000 Americans suffer from lactose intolerance (the inability to digest milk sugar), millions more suffer from an allergy to dairy products, and many more are deciding to reduce or eliminate dairy products from their diet. For all such people, there has been no way to enjoy desserts that normally call for milk or butter until now!
These recipes, using only naturally low saturated-fat, zero-cholesterol vegetable oils, retain the richness of the most delicious desserts. The book is designed for anyone who wishes to make their own fabulous dairy free desserts. It features "lay-flat binding" for your convenience. The directions & ingredients are printed on facing pages so you will not have to turn pages while you prepare a recipe. Annette developed each recipe using common ingredients and ordinary equipment so they would be easy for you to make.

Be sure and visit the RunnerDuck Cookbook Store for other great savings on cookbooks and cooking supplies.

Door Harp Step 3

We'll finish up our door harp with a few final steps. We're very pleased with the way ours turned out and hope you have the same success.

Click on the picture for a bigger view,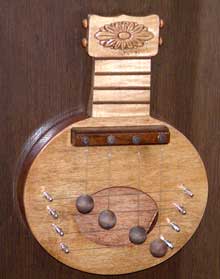 This week we'll glue the string onto the balls, add the tuning pegs, strings and mount the balls. As it turns out I think this was the most difficult part of the project.
Cut the string for the balls longer that needed to go from the bridge to the strings. I used heavy nylon fishing line but I now wish I had used a more flexible thread like upholstery thread.
Put some glue into the holes of the balls and then add some glue to the end of the string. Poke the string deep into the ball.

Using the pattern, drill 8 3/16" holes. Use a good bit and drill the holes straight. Clean the bit between holes so the varnish does not build up on the bit and make the hole bigger.
Cut 4 Necktie Pegs down to about 1/2" long.


Using a vice, hold the pegs and cut a notch for the string.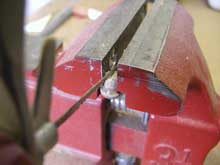 Now the fun part. Install the tuning pegs by tapping them lightly and then screwing them in using a tuning peg wrench or a small crescent wrench.
Turn them down until there is about 1/8" of the fine threads showing.
Put a piece of piano or guitar wire through one of the peg holes and wrap it around the peg about three times, counter clockwise. Do the same thing on the opposite peg wrapping it about three times and then sticking the wire through the hole.
Tighten them up until the string is taught. Do not over tighten. You will need to keep tightening the string as time goes by because they will stretch. Cut the loose ends close to the peg.
Once all four strings are on it's time to mount the balls.
I think there are better ways to do this but here's what I did. Put the string through the slot in the Necktie Peg and start it into one of the holes in the bridge. Get the ball centered about 1/8" to 3/16" below the middle of the string. When you push the peg in the ball will raise up a little. This may take a little fiddling around.
Press the pegs in all the way but don't glue them. You may want to change the height a little later.
That's pretty much it. Just tune the strings so you get a harmonious sound when all the balls are hitting the strings.
You can drill a small hole in the back for hanging or use a really good double back tape to mount it to your door.

We hope you've enjoyed this project. We always like to see pictures of what you've created so send us a digital photo of your masterpiece.

If you have a project that you would like to share please drop us a line and we'll help get it published in the RunnerDuck review. We are looking for woodworking, gardening, crafts and kids projects so send us your thoughts at projects@runnerduck.com .
---
Until Next Time...
Lets hope that February brings less threat of war and more prosperity. It seems like if we can just get over this hurdle of war we could get on with trying to improve our economy. Come on good times ahead!
---
If you want to talk about something just drop us a duckmaster@runnerduck.com any time, we like to talk about most anything. We are always looking for content for our newsletter so if you have something to add we'd love to publish it. Assuming it meets our strict family oriented requirements!

If you forward these newsletters to your friends just drop us a line and we'll do it for you. Just send us their email address and we'll do the rest. Remember, we never share our email list with anyone, period! Just drop me a line or go to our registration page and sign up your friend.

If you enjoyed this newsletter please tell a friend, if you didn't please tell us but in a nice way, we're very sensitive.

To unsubscribe just click HERE. or send an email to unsubscribe@runnerduck.com.

duckmaster@runnerduck.com

All rights reserved, RunnerDuck Productions, 2000, 2001, 2002.
RunnerDuck and its logos are property of
RunnerDuck Productions.
All other logos are property of the individual companies.
We can be contacted at duckmaster@runnerduck.com.