What's New This Week? Our water wheel broke. The first project we made over two years ago for our newsletter was a waterwheel. It's been running every since until this week. I'm glad to say that it appears to be an operator error and not a design problem. I used a 1" steel shaft and it looks like it has broken in half. I had never welded anything in my life until this project and I think my lousy weld job contributed to, or caused the failure (are you listening Flynn?). As soon as I can get some help I'll pull it out of the pond and figure out how to fix it.


I filled up my truck this morning and what a shock, 58 buckazoids! I can't believe how the gas prices have jumped in the past couple of weeks. I don't understand how they can raise the gas prices on speculation alone. If other businesses did that they'd be investigated and fined. It looks like the price of crude oil did go up about 3% so why has the pump prices gone up 30%? Does it cost more money to refine this more expensive crude? I don't think so. There's something funny going on in the gasoline world and I don't like it!
---
DigiTalk
I'm feeling another rant coming on so hold onto your keyboards.

I'm afraid that the do-gooders and terrorists are getting the upper hand. The reason I lump them in the same basket is because we are having to take all kinds of evasive actions due to their comments or actions. The most obvious example is the increased chatter on the Internet by suspected terrorists that has set our national security to High. This is causing us to watch our backs and spend tons of money to guard against our invisible enemy. By the virtue of them disrupting our lives they have won.
On a more digital note, we've become so paranoid about getting spam and p*rnogrophy (replace * with "O") that we now have filters set up to protect us from all those evildoers. While I understand the zealousness of the do-gooders to protect us it has gone too far the other way and shut down some of our effective communication. A good example is what I did above with the *. Had I actually spelled out p*rnography some peoples filters would have kicked out this newsletter because it saw the word P*rn. We hope that this newsletter is the farthest thing from P*rn you ever get and does not need to get filtered.
While I don't pretend to have all the answers we need to get back to some reasonableness. Take control of your own email and don't rely on packaged filters that think they know what you should be protected from. Try to get on with your lives without getting too wrapped up in a future that you have little control over. Just enjoy the day and all the good that it has to offer.
---
SITE OF THE WEEK
I love to listen to music while I work, especially on the computer. There are a lot of different ways to get to the music you like but I think we've found the easiest yet. One of the problems with a lot of free programs is that they have spywear imbedded in them or there are so many banners that come with it you can hardly get the program going. This is true freeware although they do accept donations. We think that after you use this program for a while you'll be happy to donate a few bucks to them.
Some of the features are, Ad-free Internet Radio, 750 preprogrammed stations, add/remove your favorite web radio stations to your own personal favorite list and much more.
Download Viddi Radio Player at www.radio.unitednerds.com and start enjoying many of the great Internet radio stations. One piece of information, you will need to have RealAudio installed on your computer. It's free from www.realaudio.com. Pay attention when you are looking for it so you get the free one unless you want to pay for the upgraded version.
If you have a favorite site please send it to us so we may share it with the rest of our readers. Send it to duckmaster@runnerduck.com.
---
MARILYN'S CORNER
Decorated Bird House
Spring is not far off and we are getting in the spirit by making some really pretty bird houses. You can decorate real bird houses or small ones for setting around the house.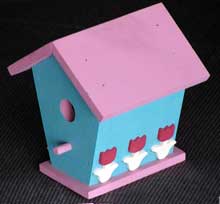 Here's what you'll need;

A Bird House. You can make one or purchase a plain one from the craft store.
Appliques from the craft store like flowers, birds, designs, etc.
Glue
Acrylic Paint, your choice of colors.
Paint your bird house pretty bright colors.
Paint your appliques.
Glue your appliques onto your bird house.
Either set it around the house for spring decoration or put it out for the birds to enjoy.

The more creative you are the prettier your bird house will be. If you think you have an especially appealing one, send us a picture. We'd love to see it.

We hope you enjoy Marilyn's Corner and look forward to all the fun things she brings you each week. If you have a fun project that would be suitable for our newsletter we'd love to share it with our readers. Just contact marilyn@runnerduck.com and we'll do the rest.

Remember we have all of our past projects archived on our web site at www.runnerduck.com. Just click on the Projects or Kids Only Eggs.
---
Everybody loves a great sale and Toy's R Us has some great discounts available in their Toys Outlet. You don't have to drive all the way to an outlet mall and hastle with parking you can just click on the link below and be on your way to some great toys.
---
The Tempos
News and CD of the Week
The Tempos are on President's Day break this week. That's because the school that we practice at is closed for the week. Don't worry we still have lots of time to polish up those new songs for the summer concerts. You can check out our summer schedule at the Tempos web site www.thetempos.com/jobs.htm. If you are making plans to visit Seattle this summer try to fit in one of our concerts. You can check out our summer schedule at the Tempos web site www.thetempos.com/jobs.htm. If you are making plans to visit Seattle this summer try to fit in one of our concerts.
---
Don't forget that The Tempos big swing band is available for hire. If you have a special event that could use the wonderful music of a classic big band be sure to contact thetempos@runnerduck.com.

I grew up on rhythm and blues and that has grown up into Funk. There are lots of forms of funk by my favorite is from the king of Funk, Maceo Parker. His hard hitting funky sound is the best in my book. Check out these great buys on these funky CDs by Maceo Parker.

(CLICK)
---
The RunnerDuck web site is hosted by



If you are looking for a great hosting service at a terrific price check them out at www.fastwirenetwork.com. If you mention that you heard about them from RunnerDuck you will get a $5.00 per month "Duck Discount" for as long as you have your account.
---
JOKE OF THE WEEK
Three men were traveling in Europe and happened to meet at a bar in London. One man was from England, one from France and one from Canada. They got acquainted and started talking about their problems with their wives.
The guy from England began by saying: "I told my wife in no uncertain terms that from now on she would have to do her own cooking. Well - the first day after I told her, I saw nothing. The second day I saw nothing. But on the third day when I came home from work, the table was set, a wonderful dinner was prepared with wine and even dessert."
Then the man from France spoke up: "I sat my wife down and told her, that from now on she would have to do her own shopping, and also do the cleaning. The first day I saw nothing. The second day I saw nothing. But on the third day when I came home, the whole house was spotless, and in the pantry the shelves were filled with groceries."
The fellow from Canada was married to an enlightened woman from Saskatchewan. He sat up straight on the bar stool, pushed out his chest and said: "I gave my wife a stern look and told her that, from now on, she would have to do the cooking, shopping and housecleaning. Well, the first day I saw nothing. The second day, I still saw nothing. But on the third day, I could see a little bit out of my left eye."
---
The RunnerDuck Goodies Store
Check out all the great products in the RunnerDuck Goodies Store. Show the world that you love RunnerDuck!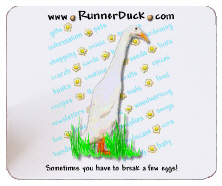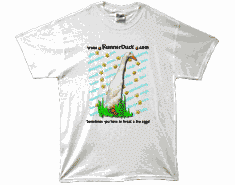 There is lots of other cool stuff at the RunnerDuck Goodies Store.

THIS WEEK'S FREE RECIPE




Texas Pecan Pie

We would like to thank Andrea for sending in this weeks delicious recipe. We sure do appreciate getting recipes from our readers.


1/3 cup butter
3/4 cup brown sugar, firmly packed
3 whole eggs
one cup light corn syrup
one cup broken pecans
one tsp vanilla
¼ tsp salt
Prepare a pie shell and set aside, or use a pre-made pie shell.
Cream butter, sugar, and eggs. Stir in corn syrup, pecans, vanilla and salt.
Pour mixture into prepared pie shell.
NOTE: Spraying the pie pan with PAM or a similar no-stick spray before placing pie shell can help keep the pastry crisp.
Bake in 375 degree oven for 30-40 minutes, or until just set in center.
Cool completely before serving.
I asked Andrea why it's called "Texas" Pecan Pie and she said she didn't know. It's just a really good old recipe that was handed down to her. Do any of you know why it's called "Texas"?
Remember, if you have a recipe you'd like to share please send it to marilyn@runnerduck.com.
Every month we post a new recipe on our web page. Be sure and check out the February recipe at the RunnerDuck Kitchen Store.
We'd be happy to post your favorite recipe there or in our newsletter and give you credit. Just drop a line to marilyn@runnerduck.com.
---
A GREAT DEAL FOR RunnerDuck SUBSCRIBERS

Cooking.com is having a Bakeware Blitz! Great prices on great names in bakeware, plus Two FREE Cooling Racks when your customers make a Chicago Metallic Bakeware purchase of $35 or more! (Use Coupon Code C92962.) See the link below for details.
Every week we bring you some great savings from Cooking.com. These will change every week so we encourage you to check them out. Just use the link below to start saving.


(click)
---
COOKBOOK
SUGGESTION OF THE WEEK

(click)


While Andrea's recipe above is a full fledged high test delicacy of sweetness we thought we'd offer some recipes a little more in line with your waste line. This week's recommended cookbook is "Aha Low-Fat and Luscious Desserts". With its first-ever dessert cookbook, the American Heart Association proves that you can indulge in soul-satisfying desserts -- and still keep your heart healthy and your waistline trim. These sweet treats are heavy on decadence, but light on saturated fat, cholesterol, and calories. Here are more than 100 mouthwatering recipes, every one of which can fit into a healthful eating plan.

Whether you want to pack a special treat into a lunch box, whip up a quick goodie to end a weekday meal, or create a show-stopping finish to a birthday, dinner party, holiday feast, or other special occasion, here are your answers. You'll satisfy the most discriminating sweet tooth with these delectable, easy-to-prepare cakes, cookies, puddings, pies, fruit treats, and frozen delights -- and, of course, chocolate, chocolate, and more chocolate!

Be sure and visit the RunnerDuck Cookbook Store for other great savings on cookbooks and cooking supplies.

Flower Cart

Spring is so close you can almost start smelling the flowers, actually around here you can smell the flowers. You are going to be needing a flower cart pretty soon and this should be a good one. This project will probably take two or three weekends but it should be well worth it when it's all done.

This first weekend we'll get our materials and build the handles.

Here's what you'll need;
4 Cedar 2" X 4"s 8' long
6 Cedar 1" X 6"s 8' long
8 Carriage blots 3/8" X 3 1/2" with nuts, flat washers and lock washers.
2 1/2" X # 10 deck screws.
24" steel wheels. You can get them at www.meiselwoodhobby.com or search the web.
Cut two 2" X 4"s 66" long.
Using the pattern from our web site, www.runnerduck.com/images/fc_patterns.htm, lay out the handles. The pattern is in three parts so that it will print on your printer. Print all three patterns and splice the first two together. Trace the pattern onto the 2" X 4"s.
Using a saber saw cut out the handle shapes.


Click on picture for a bigger view.


Sand them smooth before you radius the edges. I used my belt sander.
Route the edges to the marks from the patterns using a 1/2" round over bit.


Using 180 grit sandpaper, sand the handles smooth.


Cut out the front of the handles using your saber saw and following the pattern.
Carefully align the fronts of the handles and mark the positions for the cross members. 5" back from the front and then 24" in between the cross members.


Cut the two cross members 21" from the 2" X 4"s.
Pilot drill and countersink two holes for each board end.
Mount the cross members using two 2 1/2" #10 deck screws.
That's it for this week. Next week we'll mount the wheels and put the box bottoms on.
If you have a project that you would like to share please drop us a line and we'll help get it published in the RunnerDuck review. We are looking for woodworking, gardening, crafts and kids projects so send us your thoughts at projects@runnerduck.com .
---
CONSERVATION TIP
If you don't have a rain barrel yet now would be a good time to get one or two. It's a lot easier to get them filled up during the spring rainy season than to wait for summer. Most water district offices have rain barrels that are available for purchase. If they don't you can check with your local beverage company for some nice 55 gallon drums.
If you have a conservation tip please send it to conservation@runnerduck.com and we'll post it in our newsletter.
---
Until Next Time...
We hope you don't mind it when we rant from time to time. There are just times when you have to get something off of your chest. Feel free to join in the conversation, it's an open society.
---
If you want to talk about something just drop us a line at duckmaster@runnerduck.com any time, we like to talk about most anything. We are always looking for content for our newsletter so if you have something to add we'd love to publish it. Assuming it meets our strict family oriented requirements!

If you forward these newsletters to your friends just drop us a line and we'll do it for you. Just send us their email address and we'll do the rest. Remember, we never share our email list with anyone, period! Just drop me a line or go to our registration page and sign up your friend.

If you enjoyed this newsletter please tell a friend, if you didn't please tell us but in a nice way, we're very sensitive.

To unsubscribe just click HERE. or send an email to unsubscribe@runnerduck.com.

duckmaster@runnerduck.com

All rights reserved, RunnerDuck Productions, 2000, 2001, 2002.
RunnerDuck and its logos are property of
RunnerDuck Productions.
All other logos are property of the individual companies.
We can be contacted at duckmaster@runnerduck.com.