What's New This Week? Can you believe it's March 2004 already? This year is just screaming by. Let's see, this month we see that the Alamo fell in 1936, St. Patrick's Day is the 17th and of course the third was "I Want You To Be Happy day"! What, you didn't know that "I Want You To Be happy Day" was the 3rd? It sort of makes you wonder what other days you might miss this month. You can check out all the days of the month and events of the month like, "National Noodle Month", at www.tulane.edu/~wc/months/march.html. We think you'll get a kick out of this site.

While we're talking about the month of March. Be sure to check out our new monthly recipe at www.runnerduck.com/rdcook.htm. We think you'll really like this one.
---
DigiTalk
RunnerDuck reader Mike from Pueblo, Colorado sent us a couple of suggestions that just might save you some grief. Mike writes;
Google has implemented a new feature where you can type someone's telephone number into the search bar and hit enter and you will be given a map to their house. Think about it - if a child, single person, or anyone gives out his/her phone number, someone can actually look it up and find out where he/she lives. (It's worse than this - a predator could just place calls until he finds a target, then Google search the address.) The safety issues are obvious, and alarming. This is not a hoax, MapQuest will actually put a star on your house on your street.
In order to test whether your phone number is mapped, go to www.google.com and type your phone number in the search bar with dashes (i.e.555-555-1212) and hit enter.
Note, if your phone number is not public you should be fine. If you want to BLOCK Google from divulging your private information, simply click on the telephone icon next to your phone number. You will see a link where you are allowed to remove yourself.

Keep a watch out for people standing near you in the checkout line at retail stores, restaurants, grocery stores, etc., that have a cell phone in hand. With the new camera cell phones, they can take a picture of your credit card, which gives them your name, number, and expiration date. Identification theft is one of the fastest growing scams today, and this is just another example of the means that are being used. So... be aware of your surroundings. Please forward to all your friends and family.

Thanks Mike for those tips!
---
SITE OF THE WEEK
If you were an artist with a name like David Mach what do you think your art medium would be? His last name sort of sounds like "match" and that is one of his artist's tools. Apparently his parents never told him not to play with matches or he didn't listen. Fortunately for us he didn't!
This link, www.davidmach.com/biography/biographyframes.htm will take you to his match head art but we'd suggest you also check out the rest of his interesting web site, www.davidmach.com/. Be warned that there are a couple of places that he uses four letter words so you might want to look through the site before you share it with your kids. Not bad just a heads up.
---
MARILYN'S CORNER
Birds Nest
Last week we told you how to make a bird nesting wreath so that the birdies will have a good source of nesting materials. If you are tired of waiting for the birds to make their nests then we thought this would be the next best thing. They are fun to make with your children but be sure to supervise them because this project uses hot melt glue.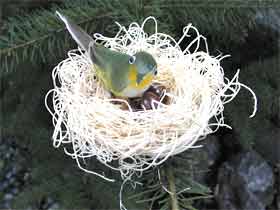 Here's what you'll need:
Excelsior
Small Clothes Pin
Hot melt glue
A small craft store bird.
Plastic bird eggs or candy but the candy won't last very long out doors.
Wad up a bunch of excelsior into the shape of a birds nest.
Hot melt glue a small clothes pin on the bottom.
Hot melt glue the feet of the bird onto the excelsior.
Add the eggs and you are done.
These really look nice on the plants around the house. Be advised that if you put them outside the birds will probably haul away the excelsior for more nesting material.
We hope you enjoy Marilyn's Corner and look forward to all the fun things she brings you each week. If you have a fun project that would be suitable for our newsletter we'd love to share it with our readers. Just contact marilyn@runnerduck.com and we'll do the rest.
Remember we have all of our past projects archived on our web site at www.runnerduck.com. Just click on the Projects or Kids Only Eggs.
---
Kids Stuff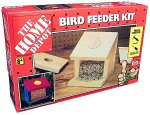 In case you missed this last week we thought we'd show it to you again. Now that the birds are busy building their nests they are going to be very hungry. This nifty bird feeder should do the trick.
Precut wood, a plastic window, screws, nails, and easy-to-follow instructions let you breeze through construction and knock yourself out on décor with this bird feeder kit from Home Depot. All you need is a hammer and a Phillips head screwdriver to get started. The feeder fills from the top and spills food to the ledge as needed. The window allows you a view of the feeder's contents. Paint it, varnish it, sticker it, or do whatever you think says "Eat here!" to the birds of your locale. [Review by Ava Natov]

Click Here
---
The Tempos
News and CD of the Week
Once again our friend Jeff F. comes through with a funny story. This one was told by Louis Armstrong during his induction into the Jazz Hall of Fame.
This raggedy musician goes into a diner, looks at the menu on the blackboard, and asks for a hamburger.
The waitress doesn't like him cuz he's raggedy, so she slaps the plate down in front of him and stalks off. Guy doesn't mind, eats the burger, pays, and leaves.
Next night he's back, looks at the blackboard, and asks for a hamburger. The waitress is livid having to serve a low-life like this, slaps the plate down and walks away in a huff. Guy doesn't care.
Next night the waitress sees him as he's walking in the door, so she goes to the blackboard menu and scratches off 'hamburger', thinking this will get rid of him. Guy sits down.
"I'm sorry," says the waitress with a forced smile, "but I've just scratched what you like."
"That's ok," says the musician. "Just wash your hands and bring me a hamburger."
---
The Tempos big swing band is available for hire. If you have a special event that could use the wonderful music of a classic sixteen piece big band be sure to contact thetempos@runnerduck.com. We perform all over the Seattle area for all sorts of events.
Album Pick of the Week
"Louis Armstrong - All-Time Greatest Hits"
By Louis Armstrong

Speaking of Louis Armstrong, here are his all-time greatest hits and you've got to love every one of them. There isn't a whole lot to say about this CD that hasn't already been said. In a nut shell, it's just the greatest!!



(CLICK)
Remember, we have a link on our web site, www.runnerduck.com, to our ever popular Grammy® Shopper site. If you haven't been there yet just click HERE to see all the 2003 Grammy® winners complete with links to purchase any one of them.
---
RSS News Feeder
One of the best ways to get our newsletter is to have it delivered to your door step. Actually it would be delivered to your desktop!

Highlight the XML link (right click and drag over it), select Copy and paste it into your newsreader.

Or just paste http://www.runnerduck.com/runnerduck.xml into your newsreader.

Don't know what this is all about? Check out our little tutorial HERE!
---
---
CONSERVATION TIP
Here's a tip you use to hear in advertising for the Yellow Pages, "let you fingers do the walking". Now more than ever that's one heck of a suggestion. With gas prices shooting through the roof it cost a couple of bucks every time you start your car. Spend a little time with the phone book and your phone before you leave the house. You'll have a lot less running around and save both gas and time.
If you have a conservation tip please send it to conservation@runnerduck.com and we'll post it in our newsletter.
---
The RunnerDuck web site is hosted by



If you are looking for a great hosting service at a terrific price check them out at www.fastwirenetwork.com. If you mention that you heard about them from RunnerDuck you will get a $5.00 per month "Duck Discount" for as long as you have your account.
---
JOKE OF THE WEEK
Our good friend Gordy H. sent us this funny story, we think you'll like the ending ;-)
Harold had been out of school for several years. He had established a furniture store in Knoxville TN, and was doing quite well.
He decided to expand the lines he carried by adding some expensive French furniture he knew no one else in town carried. He scheduled a buying trip to France.
Harold's first day in Paris was very successful and he found a number of pieces he thought he could profitably sell back home. After the arrangements were made to begin shipping this furniture to Tenn., he decided to celebrate with a glass of wine in a small sidewalk cafe.
The place was jammed, but he managed to find an empty table. Just about the time his wine arrived, a beautiful girl came by and motioned to the empty chair at his table with a questioning look on her face. He assumed she wanted to sit with him and nodded his head "yes". The girl sat down with him.
The girl tried to talk to him, but, alas, he understood not one word of French. He tried to talk to her, but, alas, she understood not one word of English. He had an idea. He took a napkin and drew a wine glass and a question mark. She nodded her head "yes".
They sat quietly enjoying their wine. When it was just about finished, Harold realized it was nearly time for dinner. He took another napkin and drew a picture of two people at a table eating dinner. She nodded her head "yes" and took him by the hand. She led him down the street to a very nice restaurant. They went in. The girl spoke with the head waiter and they were seated in a quiet corner where they could hear the band playing and see the dance floor. Harold could not read the menu since it was in French, so he allowed the girl to order for him. The food was excellent and the couple thoroughly enjoyed it.
After dinner, Harold took a napkin and drew a picture of a couple dancing. She nodded her head "yes" and they danced to every song the band played, whether fast or slow. When the band quit playing and began to pack away their instruments, the couple returned to their table.
The girl took a napkin and reached for the pen. He handed it to her and she drew a picture of a four poster bed. Harold Smith is still wondering to this day how she knew he was in the furniture business.

THIS WEEK'S FREE RECIPE




Fruit Cocktail Dessert

Oh boy, another yummy dessert! This one came from the late Albie Scheinhost by way of Ken's mom's old recipe box. It's an oldie but goodie.
1 Cup Sugar
1 Cup Flour
1 teaspoon Soda
1/4 teaspoon Salt
1 Egg, beaten
1 #2 1/2 can of Fruit Cocktail, well drained
1/2 Cup Brown Sugar
1/2 Cup Chopped Nuts
Sift the Sugar, Flour, Soda and Salt together.
Add 1 beaten Egg.
Mix well and add the Fruit Cocktail (well drained)
Mix well and pour into a 9" X 9" pan.
Spread with Brown Sugar and Chopped Nuts.
Bake 40 minutes at 35 degrees F.

Remember, if you have a recipe you'd like to share please send it to marilyn@runnerduck.com.

Every month we post a new recipe on our web page. Be sure and check out the New March recipe this Monday at the RunnerDuck Kitchen Store.
We'd be happy to post your favorite recipe there or in our newsletter and give you credit. Just drop a line to marilyn@runnerduck.com.
---
COOKBOOK
SUGGESTION OF THE WEEK
"Recipes for Diabetics"
by Billie Little, Candace J. Bricker, Candace J. Bellamy and Selvyn B. Bleifer
We know that some of our readers are Diabetic and eat all the sweet stuff that we have in our recipes so here's a great cookbook just for you.

With over 350,000 copies sold, this is the essential cookbook for people with diabetes--now revised and updated. Just because you or someone you love has diabetes doesn't mean you have to focus on "forbidden foods."

This classic cookbook, now revised and updated to reflect recent trends in food and nutrition, helps you create delicious dishes that can be enjoyed by diabetics and non-diabetics alike. Recipes for Diabetics includes * the newest exchange lists from the American Diabetes Association and the American Dietetic Association * recipes for soups, salads, appetizers, entrees, breads, desserts, and drinks * daily menu guides * recommended daily allowance chart for essential nutrients * guides for using nutrition labeling to compute exchanges * and more.


Click Here

Be sure and visit the RunnerDuck Cookbook Store for other great savings on cookbooks and cooking supplies.

Strawberry Planter Tree, Step 1
It seems like space is always a problem when planting a garden. Well how about going vertical? This nifty strawberry planter does just that. This project requires a compound miter saw because of some of the compound angles you'll have to cut. We are going to take a couple of weeks building this project. The first week we will build the tree part and next week we'll build the shelves.
Here's what you'll need:

(8) 1" X 4" X 8' Tight Knot Cedar
(1) 2" X 2" X 3' Cedar
(100) 1 3/8" #8 deck screws
Cut the center post from 2" X 2" Cedar 35" long.
Cut a 45 degree point on top.
Cut four center pieces of 1" X 4" 18 3/8" long. Cut four outside base pieces of 1" X 4" 26 1/2" long with a 45 degree bevel on each end.
Cut four supports 34 3/4" long with one end at 32 degrees and the other at 58 degrees.
Attach the four center pieces to the center post using two screws each. One from the top and one from the bottom. Use a pipe clamp to center and hold the center piece to the center post while you drill and screw. Drill and counter sink all holes to keep the wood from splitting and burying the heads.

Attach the four outside base pieces to the center pieces using two screws in each end.
Pre drill and counter sink each hole.
It should look something like this.

Now attach the supports using one screw in each end.
The bottom should look like this.

The top should look like this.

This is what your strawberry planter tree should look like at this point.
That takes care of this week. Next week we'll do the tricky part.

If you have a project that you would like to share please send us an email and we'll help get it published in the RunnerDuck review. We are looking for woodworking, gardening, crafts and kids projects so send us your thoughts at projects@runnerduck.com .

---
If you want to talk about something just drop us a line at duckmaster@runnerduck.com any time, we like to talk about most anything. We are always looking for content for our newsletter so if you have something to add we'd love to publish it. Assuming it meets our strict family oriented requirements!
---
To unsubscribe just send an email to unsubscribe@runnerduck.com with "Unsubscribe" in the Subject.

duckmaster@runnerduck.com
Tell A Friend About The "Duck"
One of the best ways we build our reader base is by good people like you telling your friends about the "Duck". If you have a friend that you think would like our newsletter just fill in the following form. Privacy Statement: This information does not go to anyone but the person you entered above. We do not collect any information from this form.
All rights reserved, RunnerDuck Productions, 2000, 2001, 2002, 2003, 2004.
RunnerDuck and its logos are property of
RunnerDuck Productions.
All other logos are property of the individual companies.
We can be contacted at duckmaster@runnerduck.com.