What's New This Week? Fathers Day weekend is here and we hope you have some great plans. It's probably a little late to do any Fathers Day shopping at our web site but it's not too late to make a nice gift for dad. We've said it before and we'll say it again, there is nothing better for dad than something hand crafted by their kids. Well, maybe a sports car or small yacht might be a little better but not much. We have lots of craft projects on our web site and there are many other web sites that might just give you a last minute idea to help make that special gift for dear ol' dad. Just go to our web site at www.runnerduck.com/projects.htm or www.runnerduck.com/kids_corner.htm or go to Google and type in "crafts". Good luck and have a grand Fathers Day!
---
DigiTalk
This week we are sort of going non digital in our digital section. We all have lots of information on our computer that we would not want to loose. Everything from bank accounts to pictures of the family are stored on our hard drives. We are always telling you to back up, back up and then back up some more. Well this week we are telling you to print your really important data. Do you remember Beta video tape recorders? Well we have about 50 Beta video tapes that are pretty much trash now because the technology has gone away. How about 5 1/4" floppies, seen any of those lately? What I'm saying is that the storage medium is always changing and you never know what's coming next or more importantly what is going away. CD's are the storage medium of choice today but I'm positive that they'll be replaced by something better. If you have things that you really don't want to loose we'd recommend printing them out and putting them somewhere for safe keeping. It's awfully hard to see a picture of great grandma Hilda staring at a floppy, hard drive or CD ROM. Scrapbooks are still a lot better way to share pictures and family stories than a computer any way.
---
SITE OF THE WEEK
Computers have become almost a piece of art with all the neat graphics and pictures that people have as their wallpaper. Many people have pictures of their families or pets or things that they like to do like camping, mountain climbing or boating. I change my wallpaper fairly regularly as I seem to like changes.
This week's web site offers some wonderful pictures created by Ryan Bliss. Ryan says, "I've been making pictures with a PC since I got my first one in late 1994. Aldus Photostyler and Kai Power Tools came bundled free with my lightning fast Compaq 486/66. That computer didn't have a modem, so I had no way of changing the lame wallpaper that came with Windows 3.1 other than doing it myself. Everything you see on this site was self-taught. I spent many long hours making really bad images before I came up with anything remotely good."
His art is truly unique and quite beautiful. There are pictures free for the downloading and he posts new ones every couple of weeks. You can also join his club and download a new picture every week. As a struggling programmer/artist it's always nice to support these kinds of efforts. Just go to www.digitalblasphemy.com and take a look around. Trust me you won't be disappointed.
---
MARILYN'S CORNER
Seashell Angle
This time of year many of you will be going to the beach. While you are there pick up some nice shells for art projects. Here's one I made from shells I gathered along the Pacific Ocean. If you take a little sticky glue along with you on vacation you can make these while you folks are napping ;-)

Here is a list of the things you will need.
Seashells
A round wooden ball, you can get these at craft stores.
Household glue
Hot melt glue. Be careful so you don't burn yourself if you use hot melt glue. You might want to get some adult help with this.
3/8" Ribbon for the wings.
Fine white netting or lace for the wings.
1/8" ribbon or string to hang your creation.
Spanish moss for the hair.
White pipe cleaner for the halo.
A black marking pen for drawing the face.
Clear acrylic spray paint.

Paint the shells with clear acrylic spray paint. This will give them a nice shine and bring out the colors.
Using your artful creativity lay out the shells to get an idea of what your angle will look like.
Once you have an idea start gluing the shells to each other using household glue.
Glue the ball on for the head using household glue.
Draw eyes, nose and mouth on the ball for a face.
Glue the hair (Spanish moss) onto the head.
Make a halo out of the pipe cleaner and use the base of the pipe cleaner to gather the ribbon and netting for the wings.
Glue the pipe cleaner and wings on to the back of the shell using hot melt glue.
Attach a ribbon or string and you are all done.

These make great gifts for anybody including dad on Fathers Day.
Have fun with this project and make several.

We hope you enjoy Marilyn's Corner and look forward to all the fun things she brings you each week. If you have a fun project that would be suitable for our newsletter we'd love to share it with our readers. Just contact marilyn@runnerduck.com and we'll do the rest.

Remember we have all of our past projects archived on our web site at www.runnerduck.com. Just click on the Projects or Kids Only Eggs.
---
Huge Toy Sale
It's always nice when you find a sale that has 10%, 15% or even 20% off but how about a whopping 60% off? Click on the link below to check out the savings on lots of toys.

Click Here
---
The Tempos
News and CD of the Week
The next event that you'll be able to see the Tempos at will be the Air show in Yakima, Washington on July 26th. We'll Start playing at 7:00 and go until 11:00. If you are in Yakima thatweekend make plans to swing by the Air show to check out some really wonderful antique airplanes and hear some equally wonderful music. If you decide to go over for the weekend you might want to reserve your hotel room soon because these places fill up fast. We'll bring you more information as we get it.
You can check out our summer schedule at the Tempos web site www.thetempos.com/jobs.htm. If you are making plans to visit Seattle this summer try to fit in one of our fun free concerts.
---
Don't forget that The Tempos big swing band is available for hire. If you have a special event that could use the wonderful music of a classic big band be sure to contact thetempos@runnerduck.com.

Sometimes I feel so stupid I even embarrass myself. I play drums in the Tempos big swing band and a lot of our music is arranged by a fantastic arranger named Sammy Nestico. His charts have a certain punch to them that brings just about any song to a new level. While I've enjoyed playing his charts for years I never thought about seeing if he ever made any records. Well he has and with the musicians that he's put together for these recording secessions the songs really come to life in all his intended glory! We are recommending only on CD here but he has several and I'd recommend checking them all out. If you love really great big swing band music than you just gotta get Sammy's CD's.



(Click)
Remember, we have a link on our web site, www.runnerduck.com, to our ever popular Grammy® Shopper site. If you haven't been there yet just click HERE to see all the 2003 Grammy® winners complete with links to purchase any one of them.
---
Questions and Answers
Welcome to our Q&A center.
Got questions? We've got answers.
Got answers? We've got questions.
Q: Several people have asked: Where do you get all the great jokes?
A: Believe it or not we get them from all of you, our great readers. We like jokes and many of you send us jokes every week. We may not reply to you about ever joke but be assured that we read and laugh at every one. Please keep them coming.
---
JOKE OF THE WEEK
At Heathrow Airport today, an individual later discovered to be a public school teacher was arrested trying to board a flight while in possession of a compass, a protractor, and a graphical calculator. Authorities believe he is a member of the notorious al-Gebra movement.
He is being charged with carrying weapons of math instruction.
Thanks or blame goes out to Ken's cousin Cindy for that cute joke.
---
CONSERVATION TIP
Over watering our yard is one of the biggest wastes of water there is. Have you ever seen where a person is watering their yard and there is a small river running down the street into the sewer? Now there's a waste of water. There are some new devices that have built in sensors that will water your yard just the right amount based on temperature, humidity and even the weather forecast. One example of these devices is the Weather Reach Receiver, http://www.weatherreach.com/receiver.html. While we haven't actually used this device and can't make a personal recommendation it sure does sound cool. Keep looking for new ones coming on the market that will even receive satellite weather data. To check out other devices just go to Google and enter "smart sprinkler". You'll get quite a list of options and information.
If you have a conservation tip please send it to conservation@runnerduck.com and we'll post it in our newsletter.
---
GREAT DEALS FOR RunnerDuck SUBSCRIBERS
The barbecue's are hot and ready for some great summer cooking. One of the things you really need is a good set of barbecue tools. This 18 piece set is just the ticket for handling all those great meals you're going to be cooking. Just click on the link below to check out this great deal.
---
The RunnerDuck web site is hosted by



If you are looking for a great hosting service at a terrific price check them out at www.fastwirenetwork.com. If you mention that you heard about them from RunnerDuck you will get a $5.00 per month "Duck Discount" for as long as you have your account.

Pepper Relish

Here's a great old recipe from Irene Graham. I say old because she gave it to Ken's mom about twenty years or more ago. As the weather warms up we start to have more and more picnics. This relish is a great topping for hamburgers and hot dogs.
2 Dozen Golden Peppers
7 Medium Onions
2 Tablespoons Mustard Seed
2 Tablespoons Salt
3 Cups Vinegar
3 Cups Sugar
Finley chop the Peppers and Onions.
Mix all ingredients together.
Boil for 30 minutes.
Put it into jars and it's ready to serve.
Keep in the refrigerator or air-tight seal.

I've not made this recipe but Ken had it years ago and says it's great. I'm not sure how much it actually makes but I'd guess a few jars worth.

Remember, if you have a recipe you'd like to share please send it to marilyn@runnerduck.com.

Every month we post a new recipe on our web page. Be sure and check out the NEW June recipe at the RunnerDuck Kitchen Store.
We'd be happy to post your favorite recipe there or in our newsletter and give you credit. Just drop a line to marilyn@runnerduck.com.
---
COOKBOOK
SUGGESTION OF THE WEEK

(CLICK)

"How to Grill: The Complete Illustrated Book of Barbecue Techniques" by Steven Raichlen

If you are new to barbecuing or an old hand this book is for you. One person that bought this book had this to say.

"This book is the absolute 'have to have'. Don't throw another beast on the grill without it! Whether you are a seasoned grill master or still trying to figure out how come your burgers always taste like hockey pucks BUY THIS BOOK TODAY!

If you follow the simple instructions for marinades and grilling, everything comes out looking and tasting PERFECT. He even tells you EXACTLY how to get the perfect temperature on your grill for both gas and charcoal. Honestly, stuff comes off the grill looking as good as if not better than the pictures in the book. And taste....Oh My God! The best stuff ever: Beef, Pork, Chicken, Fish. You name it it'll be perfect. I've been grilling for 15 years and considered myself a good grill guy but this book has elevated me to a whole new level. On a scale of 1 to 10, I've gone from a 5 to a 10 with this book in hand. Buy this book but be prepared. You may never use your kitchen stove or go out to eat ever again......."

Be sure and visit the RunnerDuck Cookbook Store for other great savings on cookbooks and cooking supplies.

Purse Birdhouse

Marilyn got the idea for this at a you-paint ceramics store that had a ceramic purse/vase. I did the design and all the building and she did all the hard work of making it a piece of art. We think you'll like this little project.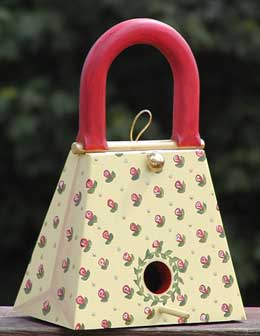 Here's what you'll need:

1" X 8" X 36" Pine or Spruce.
(2) 1/2" hinges.
1/2" X 5 3/4" dowel.
1/4" X 2 1/2" dowel.
6 1/8" X 2 3/4" X 1/8" plywood.
Click on this picture for bigger images of this project.


(CLICK)


Lay out and cut the front and back pieces 8" wide at the bottom, 5 1/4" wide at the top and 6 1/6" high. Cut the bottom edge at a 12 1/2" to 13 1/2" angle.
Lay out and cut the side pieces 3" wide at the bottom, a center point at the top and 6 3/8" high. Cut the bottom edge at a 12 1/2" to 13 1/2" angle.


Glue and nail the sides to the front and back.
Cut a 1/2" diameter dowel to 5 3/4".
Make the handle 5 1/4" X 5 1/4". The handle will be 1" wide so lay out the width with a full inside and outside radius.
Route the inside and outside edges of the handle with a 5 /16" roundover bit to within 1" of the ends.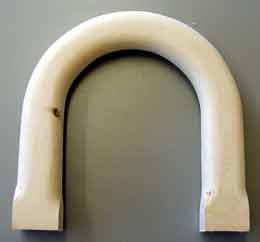 Drill a 1/2" hole centered 1" up from each end.


Cut through the hole so that the handle will line up with the purse top over the 1/2" dowel.


Pilot drill the 1/2" dowel to glue and nail it to the bottom of the handle.
Attach the handle to the purse by drilling two pilot holes at an angel from the back through the dowel. Glue and nail the dowel to the purse.


Drill a 1 1/4" hole 2" up from the bottom on the front for the bird hole.
Drill a 1/4" hole 1/2" below it for the perch.
Make the bottom from 1/8" plywood cut 6 1/8" X 2 3/4".
Attach it with two 1/2" hinges.
Make a hasp out a scrap piece of wood and attach with a flat head screw.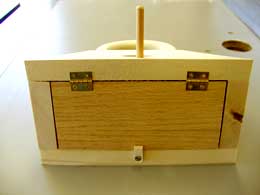 All that's left is painting and enjoying.

We hope you've enjoyed this project and have good success with it. Remember, if you ever have any problems with our projects just drop us a line and we'll try to help. Since we build every one of these projects we have a pretty good idea of how to get through them. We also make lots of mistakes so we can help avoid them. If you have a project that you would like to share please drop us a line and we'll help get it published in the RunnerDuck review. We are looking for woodworking, gardening, crafts and kids projects so send us your thoughts at projects@runnerduck.com .
---
If you want to talk about something just drop us a line at duckmaster@runnerduck.com any time, we like to talk about most anything. We are always looking for content for our newsletter so if you have something to add we'd love to publish it. Assuming it meets our strict family oriented requirements!

If you forward these newsletters to your friends just drop us a line and we'll do it for you. Just send us their email address and we'll do the rest. Remember, we never share our email list with anyone, period! Just drop me a line or go to our registration page and sign up your friend.

If you enjoyed this newsletter please tell a friend, if you didn't please tell us but in a nice way, we're very sensitive.

To unsubscribe just click HERE. or send an email to unsubscribe@runnerduck.com.

duckmaster@runnerduck.com

All rights reserved, RunnerDuck Productions, 2000, 2001, 2002.
RunnerDuck and its logos are property of
RunnerDuck Productions.
All other logos are property of the individual companies.
We can be contacted at duckmaster@runnerduck.com.