What's New This Week? As you can tell from our web site and newsletters we really like good recipes. One place we get lots of great recipes is through the Good Fixins newsletter. If you haven't subscribed we'd highly recommend doing so. Donna publishes a daily newsletter called Good Fixins and a weekly newsletter dedicated to chocolate. Every one has a wonderful recipe or two, cooking information and some fun critter stories.

She's just started something new and that's selling two new E-cookbooks. One is Chickin Fixins and the other is Chocolate Fixins. Each one has over 120 recipes especially selected from Donna's huge collection of recipes. The amazing thing is that she is selling these great E-cookbooks for only $7.97 each. She's even including her famous "Mr. Picky's Secret Recipe Barbeque Sauce" for free with the chicken cookbook. Click Here or on the books below to go to the Good Fixins web site. Once you are there click on E-cookbooks to order the cookbooks or sign up for her newsletters.
---
DigiTalk
Have you noticed how ugly the spammers are getting with their email subjects? You really need to start paying attention to the subject of emails you receive. There was a time that the subject would be a description of what was to follow like prescriptions, pyramid game, casino, etc. Now what they are doing is trying to get you to look at their sales pitch by using subjects that sound like they are from a friend or a reply to something you may have sent. I've recently seen subjects like, RE: Information you asked for, Hey, Check this out!, Is this your email? and Please resend the email. I did not ask for any information, I didn't check "this" out and I certainly did not resend the email!
Please don't fall for this stuff. Check your email carefully and don't open anything that doesn't look right. I'm getting more and more skeptical about any email that comes from someone I don't know and especially if it has an attachment. If you ever want to send us a picture of something interesting or anything else that you attach please send us an email first saying that you are going to send an email with an attachment and what it is about. It just doesn't pay to open an email that may do some harm to your computer.
Marilyn heard on the news yesterday that it is supposed to be against the law to send an email with a misleading subject for marketing purposes. I guess they aren't enforcing that.
---
SITE OF THE WEEK
Believe it or not we try really hard to put together a newsletter that is free from spelling errors. I do a pretty good job of spelling but tools like spell check really help. Sometimes I'll be writing with a pen or in a computer program that doesn't have a spell checker. I do have an instant word guide but it can take a while to leaf through the pages to find just the right spelling.
This week we found a great little program that makes finding the correct spelling a lot easier. "tinySpell" is a very small program that lives on the Start tool bar near the clock. There are a number of different ways that you can use this program. You can have it spell check everything you type on the fly. You can have it beep every time it thinks you spelled something wrong. Both of these features can be beneficial in some cases but I usually disable them. The feature I like best it the Spelling Window. Just click on the tinySpell icon on the tool bar and select Spelling Window. A small box pops up on your screen that you type your word into. If it's spelled wrong it will give you some alternatives just like any spell checker. It comes with a dictionary of 110,000 words so it's sure to have the one you need. Just go to tinySpell at www.megspace.com/computers/tinyspell.
---
MARILYN'S CORNER
Colored Campfire Rocks
It's always fun to have interesting things to do when you go camping. This is really fun but you will need your parents help with this art project. The results always vary and you can get some really interesting designs.

Here's what you'll need:
Some smooth rocks
Crayons
A shovel or long tongs
A campfire
After you have selected that perfect rock, draw on it with crayons. You can make pictures or patterns. The trick is to put on lots of crayon so it will melt. The thicker the better!


Pointed rocks work pretty good because the crayon will run down, blending with the other colors.
Have your parents place the rocks near the coals of a camp fire.


You can watch the crayon melt and all the colors get smooth.
Have your parents carefully remove the rocks from the fire using a shovel or long handled tongs. Put the rocks in a safe place to cool. It will take a long time for them to cool down so don't get too anxious to handle them. You may burn your fingers and you'll probably get melted crayons all over them.
It's best to let them set over night and check out your creation in the morning.
Try lots of different shaped rocks and colors. You'll have a great time.
When you are done place them in your garden at home as yard art!

We hope you enjoy Marilyn's Corner and look forward to all the fun things she brings you each week. If you have a fun project that would be suitable for our newsletter we'd love to share it with our readers. Just contact marilyn@runnerduck.com and we'll do the rest.

Remember we have all of our past projects archived on our web site at www.runnerduck.com. Just click on the Projects or Kids Only Eggs.
---
Summer Tenting Fun
Summer is a great time to play out doors and this tent/tunnel is great. It folds up really small when not in use but opens up to some real fun. It can be used indoors as well as out in the yard.

Click Here
---
The Tempos
News and CD of the Week
Just two weeks to go until the next big event for the Tempos which will be the Air show in Yakima, Washington on July 26th. It will be at the McAllister Museum of Flight. Their web site has some great information about the museum including a picture of Charlie McAllister's pilot license signed by Orville Wright, mcallistermuseum.org/index.htm. The dance is from 7:30PM-11:00PM. The band is the famous Seattle group, the "Tempos", a 17 piece pro swing band that has been performing in the Seattle area for over 30 years, playing mainly Glenn Miller style music. There will also be a silent and live auction with Bob Clem as master of ceremonies and auctioneer. Heavy hors d'oeuvres will be provided and adult beverages will be available. Only a limited number of tickets will be sold. This event is primarily a fundraiser for McAllister's. The price of the tickets are $40.00 each and only 200 are planned to be sold. Contact McAllister Museum for tickets. (509)457-4933.
You can check out our summer schedule at the Tempos web site www.thetempos.com/jobs.htm. If you are making plans to visit Seattle this summer try to fit in one of our fun free concerts.
---
Don't forget that The Tempos big swing band is available for hire. If you have a special event that could use the wonderful music of a classic big band be sure to contact thetempos@runnerduck.com.

Last week we told you about three famous people we lost. This week we are saddened to say that we lost another great musician. Barry White passed away and we'll miss his wonderful deep voice and sexy way with music. Of course his music will live on for generations to come but we will surely miss the man. This week we have one of his all time favorite CD's for you. It's a two CD set called "Barry White: The Ultimate Collection". It's a great CD featuring many of his very best songs.


(Click)
Remember, we have a link on our web site, www.runnerduck.com, to our ever popular Grammy® Shopper site. If you haven't been there yet just click HERE to see all the 2003 Grammy® winners complete with links to purchase any one of them.
---
Questions and Answers
Welcome to our Q&A center.
Got questions? We've got answers.
Got answers? We've got questions.
Q: Gordy asked: You once told me about a little program that would set your computer to the atomic clock. Do you remember the name of it or the web site?
A: Yep, the name of it is Atomic TimeSync and you can find it at www.analogx.com/contents/download/network/ats.htm. It's a small free program that is easy to install and works great.
---
JOKE OF THE WEEK
I've got to tell you that this is my (Ken) favorite kind of joke. I just wish I had the mind to remember it to tell at a party :-)
Israeli police are looking for a man named Joseph, wanted for looting in the port city of Haifa. The suspect is described as the son of an ex-nun from Barcelona and a German father. He was a former flutist and worked occasionally as a farmer.
In short, he was a Haifa-lootin', flutin' Teuton, son of a nun from Barcelona, part-time plowboy, Joe.

The RunnerDuck web site is hosted by



If you are looking for a great hosting service at a terrific price check them out at www.fastwirenetwork.com. If you mention that you heard about them from RunnerDuck you will get a $5.00 per month "Duck Discount" for as long as you have your account.
---
Fruit Salad

I don't know about where you live but here in Washington state it's HOT! The Seattle area was in the mid to high 90's this past week, too darn hot. All this heat made us think that we need something very simple and cool. This salad fits the bill just perfect.
2 Cans drained Mandarin Oranges
2 Cans drained Pineapple Chunks
2 Small Cans White Grapes
1 Cup Flaked Coconut
2 Cups Miniature Marshmallows
1 Cup Sour Cream or Yogurt
Mix all ingredients in a large bowl.
Cover and refrigerate overnight.
Garnish with Maraschino Cherries.

This is great for summer picnics or potlucks.

Remember, if you have a recipe you'd like to share please send it to marilyn@runnerduck.com.

Every month we post a new recipe on our web page. Be sure and check out the NEW July recipe at the RunnerDuck Kitchen Store.
We'd be happy to post your favorite recipe there or in our newsletter and give you credit. Just drop a line to marilyn@runnerduck.com.
---
GREAT DEALS FOR RunnerDuck SUBSCRIBERS
Weeknight cooking is seldom a leisurely experience. By the time you get in the door, it's time to put dinner on the table. With these helpful appliances, your family's meal will be ready in just 30 minutes - they're even quicker than the pizza deliveryman. Use Coupon Code C96395 at checkout. Offer ends 7/21/03.

Click Here
---
COOKBOOK
SUGGESTION OF THE WEEK

(CLICK)

"Barbecue and Salads for Summer" (Portable Chef Series) by Jacqueline Bellefontaine

This is a great little cookbook and we do mean little. Not in content but in dimensions. It's only 6" X 4" but loaded with great recipes. One of the comments people make about this cookbook is that it's small enough to take to the store with them so they don't have to make a list.
One person that reviewed this book wrote: "The recipes are simple and use ingredients that you can find at the grocery store. Most recipes are no more than 5 or 6 steps and include photos of some of them. I love this because I'm a visual person and I like to see what I need to do instead of just reading about it. There is also a beautiful, full page color picture of the final product so you have an idea of what the finished product should look like and how you can present it."

Be sure and visit the RunnerDuck Cookbook Store for other great savings on cookbooks and cooking supplies.

License Plate Birdhouse

We've been seeing these at street fairs and Saturday markets around the area and since we had an old license plate we decided to make our own. They are simple and a good way to use up an old license plate.

Click on the picture for a bigger view
Here's what you'll need:

1" X 8" X 4' Cedar
License Plate
#6 X 1 1/4" deck screws
Nails
1 1/8" drill bit
1/4" drill bit
Cut the sides 4" X 6 1/4" with a 45 degree bevel along the top.
Cut the front 7" X 9" with a 45 degree peek. Measure 3 1/2" down from the top and draw a line from the sides to the peek for your 45.
Drill a 1 1/8" hole centered about 4" up from the bottom.
Drill a 1/4" hole for the perch centered about 1" below the big hole.
Cut the back 7" X 9 3/4" with a 45 degree peek, same as the front.
Cut the bottom 6 1/4" X 7".
Nail or screw all the pieces together.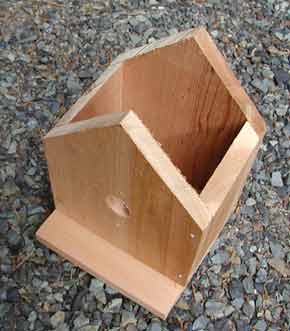 Bend the license plate in the middle to fit the roof. You may have to tap the sharp corner of a piece of wood to give it a little crease.
Screw the license on the top and your hotel is ready for occupants.

This is a great little project to do with your kids or grandkids. We hope you have fun with it.

We hope you've enjoyed this project and have good success with it. Remember, if you ever have any problems with our projects just drop us a line and we'll try to help. Since we build every one of these projects we have a pretty good idea of how to get through them. We also make lots of mistakes so we can help avoid them. If you have a project that you would like to share please drop us a line and we'll help get it published in the RunnerDuck review. We are looking for woodworking, gardening, crafts and kids projects so send us your thoughts at projects@runnerduck.com .
---
CONSERVATION TIP
Stop watering your sidewalk and driveway, it won't grow! If you need to clean your sidewalks or driveway use a broom and not your hose. While it's not as much work to use water it is really wasteful. Not only that but a little exercise probably won't hurt you :-)
If you have a conservation tip please send it to conservation@runnerduck.com and we'll post it in our newsletter.
---
If you want to talk about something just drop us a line at duckmaster@runnerduck.com any time, we like to talk about most anything. We are always looking for content for our newsletter so if you have something to add we'd love to publish it. Assuming it meets our strict family oriented requirements!

If you forward these newsletters to your friends just drop us a line and we'll do it for you. Just send us their email address and we'll do the rest. Remember, we never share our email list with anyone, period! Just drop me a line or go to our registration page and sign up your friend.

If you enjoyed this newsletter please tell a friend, if you didn't please tell us but in a nice way, we're very sensitive.

To unsubscribe just click HERE. or send an email to unsubscribe@runnerduck.com.

duckmaster@runnerduck.com

All rights reserved, RunnerDuck Productions, 2000, 2001, 2002.
RunnerDuck and its logos are property of
RunnerDuck Productions.
All other logos are property of the individual companies.
We can be contacted at duckmaster@runnerduck.com.