What's New This Week? Thanks to all you who have sent congratulations on our new grandson. We stopped by their house on the way to Sandy Point last Friday and everyone is doing good. Hudson is already starting to look different and getting rid of some of that new born look. It really is amazing how fast those little tikes change.

We got a great little story from RunnerDuck reader Telitha R. that we thought we should share with you.

Last week I took my children to a restaurant. My six-year-old son asked if he could say grace. As we bowed our heads he said, "God is great. God is good. Thank you for the food, and I would even thank you more if Mom gets us ice cream for dessert. And Liberty and justice for all! Amen!"

Along with the laughter from the other customers nearby I heard a woman remark, "That's what's wrong with this country. Kids today don't even know how to pray. Asking God for ice-cream! Why, I never!"

Hearing this, my son burst into tears and asked me, "Did I do it wrong? Is God mad at me?" As I held him and assured him that he had done a terrific job and God was certainly not mad at him, an elderly gentleman approached the table. He winked at my son and said, "I happen to know that God thought that was a great prayer."

"Really?" my son asked. "Cross my heart," the man replied. Then in a theatrical whisper he added (indicating the woman whose remark had started this whole thing), "Too bad she never asks God for ice cream. A little ice cream can be good for the soul."

Naturally, I bought my kids ice cream at the end of the meal. My son stared at his for a moment and then did something I will remember the rest of my life. He picked up his sundae and without a word, walked over and placed it in front of the woman. With a big smile he told her, "Here. This is for you. Ice cream is good for the soul sometimes; and my soul is good already."

This weekend The Tempos are performing at Bothell Landing in Bothell, Washington Friday evening 6:30 to 8:00 and at the Ballard Locks in Ballard, Washington Sunday afternoon 2:00 to 4:00. See The Tempos below for more information.
---
DigiTalk
Dang, we got bit! After all we've told you over the past couple of years about NOT opening up email attachments unless you know who they are from we did it and got a virus. Marilyn hasn't used the computer at home all that much and wasn't use to the amount of spam that we get. Now that she's looking for a job she's on the computer a lot and noticed the following email:

The subject was "Your Account". It read, Hello there,
I would like to inform you about important information regarding your email address. This email address will be expiring. Please read attachment for details.
---
Best regards, Administrator
liolaioa

The attachment was a Zip file entitled "message". When she opened that "WinZip", our unzip program displayed "message" as an HTML file for a web page. She clicked on that and nothing happened. At least she didn't think anything happened. Actually it wrote the WORM_MIMAIL.A virus to our hard drive. The virus exploits vulnerabilities which affects Internet Explorer and Outlook. These vulnerabilities allow a malicious user to execute any code and script on the infected machine. Fortunately we do not use Outlook and we caught it very early. We downloaded a cleaner for the virus. Ran it twice and we are good to go.
Should you be so lucky to get this virus just go to www.trendmicro.com/vinfo/virusencyclo/default5.asp?VName=WORM_MIMAIL.A and they will tell you how to get rid of it.
---
SITE OF THE WEEK
As many of you know we lost our dog Ginger a couple of months ago and really miss her. While we don't have any plans to get another dog anytime soon we still love them a lot. We found a great site that caters to dog lover's world wide. They post a newsletter every day Monday through Friday on their web site. They do not mail out their newsletter so you need to log on each day to check it out. Of course they are all archived so you can look back to see previous discussions. Catherine, the editor of this newsletter says, "As you can tell, it [this site] is a labour of love. I hope to continue this as I go through vet school."
They discuss all kinds of issues from training to diet to equipment and more. You can submit questions and for a small consulting fee they will work directly with you. To get some great information on dogs go to http://dogreader.com/. If you are a dog owner this might just become your favorite site next to www.runnerduck.com.
---
MARILYN'S CORNER
Tin Pockets
Tin art is always a fun thing to do. You do have to be careful so you don't cut yourself on the sharp edges. If you are a young person making this project we'd suggest getting some adult supervision to help make it. These pockets make great gifts and look really nice hanging around the house.

Here's what you'll need:
Tin panels. You can get them at most craft stores.
4" X 4" stiff cardboard.
Colored wire about 24 gage.
Decorations for your project.
Cut the tin panel into fourths.
Using one fourth, place the cardboard kiddy corner as a folding guide.


Fold three of the corners up and over the cardboard.
Punch a hole in the middle, where the two corners come together, using a push pin.
Tie them together with a piece of wire.
You can also use these holes to run wire through when you tie your decorations on. We used sea shell beads.
We coiled some of the wire around a pencil to give it some nice curley Q's.
Punch a hole near the top and run a wire through the hole to make a hanger. Loop the wire and wrap it around its self several times to make a solid hanger.
You can put all kinds of things in your pockets to make them very pretty.

Use the extra material to make more and give them away as presents.

We hope you enjoy Marilyn's Corner and look forward to all the fun things she brings you each week. If you have a fun project that would be suitable for our newsletter we'd love to share it with our readers. Just contact marilyn@runnerduck.com and we'll do the rest.

Remember we have all of our past projects archived on our web site at www.runnerduck.com. Just click on the Projects or Kids Only Eggs.
---
Back to School Boutique

Oh it pains us to say it but it's time to start thinking about gearing up for back to school. We have some great bargains plus free shipping on orders over $75.
Just click on the link below.

Back To School Bargains
Click Here
---
The Tempos
News and CD of the Week
This is a big weekend for The Tempos. We'll be performing at Bothell Landing this evening from 6:30 to 8:00. Bothell Landing is a beautiful amphitheater on the Sammamish slew in Bothell, Washington. It's a great venue to hear a great band.
We are also playing at the Ballard Locks this Sunday, August 10th from 2:00 to 4:00. This is part of their summer concert series and always a great time. Get some fish and chips at the entrance to the Locks and have a picnic with The Tempos. We hope to see you at one of these events. If you get a chance go up to the drummer and say hi! That's me :-)
You can check out our summer schedule at the Tempos web site www.thetempos.com/jobs.htm. If you are making plans to visit Seattle this summer try to fit in one of our fun free concerts.
---
Don't forget that The Tempos big swing band is available for hire. If you have a special event that could use the wonderful music of a classic big band be sure to contact thetempos@runnerduck.com.

I think for the first time in about five weeks we are actually going to make it through without loosing one of our famous artists. There is a group touring the United States now through October that are absolutely fabulous. Acoustic Alchemy is one of those "must hear" groups. If you don't have a chance to hear them live then this CD is the next best thing. One reviewer of this CD wrote, "You can't help but smile ear to ear from the first note to the final encore." We think this CD will bring a fresh smile to your face also.



(CLICK)
Remember, we have a link on our web site, www.runnerduck.com, to our ever popular Grammy® Shopper site. If you haven't been there yet just click HERE to see all the 2003 Grammy® winners complete with links to purchase any one of them.
---
The RunnerDuck web site is hosted by



If you are looking for a great hosting service at a terrific price check them out at www.fastwirenetwork.com. If you mention that you heard about them from RunnerDuck you will get a $5.00 per month "Duck Discount" for as long as you have your account.
---
JOKE OF THE WEEK
This weeks Joke comes form Mike Robinson.
Cheating husband Jake was dying. His wife, Becky, was maintaining a candlelight vigil by his side. She held his fragile hand, tears running down her face. Her praying roused him from his slumber. He looked up and his pale lips began to move slightly.
"My darling Becky," he whispered.
"Hush, my love," she said. "Rest. Shhh, don't talk."
In his tired voice, "I have something I must confess to you.
"There's nothing to confess," replied the weeping Becky. "Everything's all right, just go to sleep."
"No, no. I must die in peace, Becky. I...I cheated on you!"
"I know," Becky whispered as she softly stroked his forehead. "Just let the poison work".

THIS WEEK'S FREE RECIPE




Strawberry Ice Cream Parfait Pie

Here's a great summer recipe from the late Helen Barns in North Bend, Nebraska. This is a great dessert for any summer dinner.
1 Package Lemmon Jell-O
1 1/4 Cup Boiling Water (can use juice from berries)
1 Pint Strawberry Ice Cream
1 1/2 Cup Sliced Strawberries, drained and slightly sweetened
Baked Pie Shell
Dissolve the Jell-O in Hot Water.
Add Ice Cream by spoonfuls, stirring until blended.
Allow to chill until it starts to set but not firm, about 1/2 hour.
Stir in drained Strawberries.
Put in Pie Shell and chill.

Another simple but delicious recipe from the past.

Remember, if you have a recipe you'd like to share please send it to marilyn@runnerduck.com.

Every month we post a new recipe on our web page. Be sure and check out the NEW August recipe at the RunnerDuck Kitchen Store.
We'd be happy to post your favorite recipe there or in our newsletter and give you credit. Just drop a line to marilyn@runnerduck.com.
---
COOKBOOK
SUGGESTION OF THE WEEK
"Simple Strawberry Sensations!" by Laura York
Our strawberry recipe this week is just the tip of the iceberg. This cookbook is loaded with every imaginable recipe that could be made from strawberries. One reader of this cookbook from Tampa, Florida wrote the following, "Simple Strawberry Sensations! is packed with delicious recipes, featuring strawberries. Author, Laura York, has pushed the envelope and created some unbelievable treats. She has an entire section devoted to Brunch recipes which are my personal favorites...especially the Strawberry Stuffed French Toast with Warm Strawberry Syrup...YUMMY! The cookbook also includes soups, salads, killer desserts, beverages and even great gift ideas. The Sweet and Spicy Strawberry Bar-B-Que Sauce is THE BEST!"

(CLICK)
Be sure and visit the RunnerDuck Cookbook Store for other great savings on cookbooks and cooking supplies.
Recipe Box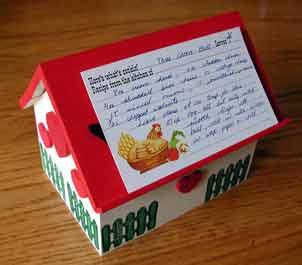 This is a neat little weekend project that makes a nice gift or just a good place to store your own recipes. We used Poplar for our project and I'm not sure it was such a good idea. I has a real tendency to warp. If you are going to paint your recipe box then plywood might just be better.

Here's what you'll need:

6" X 48" X 1/4" plywood or hard wood
(2) 1" brass hinges and screws
Glue
Paint
Here are the dimensions and larger pictures of this project. Just click on the picture below.

(Click)
Cut the front and back, 5 1/16" X 2 3/4".
Cut the bottom, 5 1/16" X 3 1/2". Cut the two ends 4" X 4 3/4". Cut a 45 degree peak starting at 2 3/4" from each side.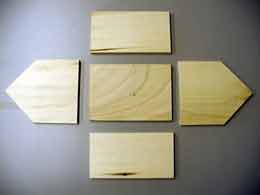 Glue and nail all the pieces together.


Cut the front of the roof 6 1/4" X 3 1/2".
Cut the card lip 1/2" X 6 1/4" X 1/8". Make this from a scrap piece of 1/2" think wood.
Glue the card lip to the front roof.


Cut the back roof pieces, 6 1/4" X 1 3/4" and 6 1/4" X 1 1/2".
Glue and clamp the 1 3/4" roof piece to the front piece.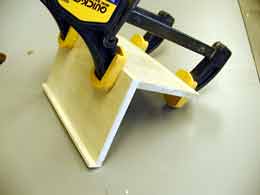 Butt the two back roof pieces and install the hinges.
Glue and clamp the lower back roof to the sides.


Sand and paint to give it character and charm.

Now go out and fill it up with all those great recipes you've had laying around.

We hope you've enjoyed this project and have good success with it. Remember, if you ever have any problems with our projects just drop us a line and we'll try to help. Since we build every one of these projects we have a pretty good idea of how to get through them. We also make lots of mistakes so we can help avoid them. If you have a project that you would like to share please drop us a line and we'll help get it published in the RunnerDuck review. We are looking for woodworking, gardening, crafts and kids projects so send us your thoughts at projects@runnerduck.com .
---
CONSERVATION TIP
In some parts of the country including the Great Northwest there has been little rain and lots of forest fires. If you really want to conserve something how about saving our forests? When you are out camping obey all fire rules. If they aren't allowing camp fires then don't start one. If they do, be sure to put it out with lots of water before you leave it. If you are a smoker butt your cigarettes and make sure they are dead out. With all the tinder dry shrubs and branches on the ground it doesn't take much to get a fire going. Once it starts there is little chance of putting it out by yourself.
Please do your part to help protect our national treasure, the forests!
If you have a conservation tip please send it to conservation@runnerduck.com and we'll post it in our newsletter.
---
If you want to talk about something just drop us a line at duckmaster@runnerduck.com any time, we like to talk about most anything. We are always looking for content for our newsletter so if you have something to add we'd love to publish it. Assuming it meets our strict family oriented requirements!
If you forward these newsletters to your friends just drop us a line and we'll do it for you. Just send us their email address and we'll do the rest. Remember, we never share our email list with anyone, period! Just drop me a line or go to our registration page and sign up your friend.
If you enjoyed this newsletter please tell a friend, if you didn't please tell us but in a nice way, we're very sensitive.
To unsubscribe just click HERE. or send an email to unsubscribe@runnerduck.com.
duckmaster@runnerduck.com
All rights reserved, RunnerDuck Productions, 2000, 2001, 2002.
RunnerDuck and its logos are property of
RunnerDuck Productions.
All other logos are property of the individual companies.
We can be contacted at duckmaster@runnerduck.com.