What's New This Week? Just like we suggested in last weeks newsletter we decided to go to the Evergreen State Fair. We hadn't been in a few years and wanted to see all that it had to offer. We went during the week to avoid the large weekend crowds and it was great. Another reason we went on Tuesday was because there was a strong indication that there would be runner ducks there and we were right. There were about five cages with two or three in each one. There were Gray Runners, White Runners, Pencil Neck Runners, etc. We took quite a few pictures but the lighting was so bad that hardly any turned out. We did manage to get one that we really liked.


Hey guys, look at that goofy looking duck :-)
Labor Day and September are upon us. Where did the summer go? While we worked our summer away up at Sandy Point we did have a good time also. Actually here in Washington our summer generally continues for a while longer. We can have some really nice late summer and early fall days which are great for camping and boating. If you don't have children that are back in school this is a great time to come and visit our wonderful state.
As promised we got the new radio controlled electric speed boat out on the water and it was a blast. It controls really well and zips along pretty fast. I (Ken) still have to get use to the transmitter and the responsiveness of the boat but it is really a lot of fun. I need to do a little trimming with the out drives to make it go faster but for learning to drive it, it's probably fast enough.

---
DigiTalk
Have you had your fill of virus email yet? The worms that are out there right now sure are clogging the band width. We had a really hard time sending out our newsletter last week. We hope you got yours but please understand that if you didn't it wasn't our fault.
I don't know what anybody is going to be able to do about these devious people but it sure is getting annoying. Last week we got 180 emails in one day that were all generated by the worms that are out there. If you don't know, a worm is a virus that infects your computer and then sends its self out to everyone in your Outlook address book. It also opens a door so that hackers can have easy access to your computer.
We've said it a dozen times before but if you see a suspicious email dump it and then empty your trash bin. I just ain't worth it to open up one of those interesting sounding emails and infect your computer. Curiosity killed the cat and now it's killing the Internet. Remember, do not open up email attachments unless you know who they are from and what they are.
While we were at the fair we checked out the computer club booth. They had a sign that sort of summed everything up.

---
SITE OF THE WEEK
We thought we'd try and send a little business to a friend of ours. I use to work with Dana and Bob at Primex Aerospace, they ran the model shop. They are a couple of the best sheet metal and machinist guys around. After a few reorganizations the company closed down the model shop so Dana and Bob started their own company over on the Olympic Peninsula called DaBob Precision Sheet Metal. They do sheet metal work for a number of industries in the area. The reason I'm talking about them here is because they have invented a cool new device.
Do you have or know someone who has a single person pontoon boat used for fishing or drifting down the rivers? If you do then you know how difficult it is to move the boat from the car to the water especially when you have all the gear loaded on it. DaBob has come up with the "Launching Gear". It's a single wheel that mounts to the bottom of the boat. It drops down for rolling on the ground and swings up when in the water. This device might just save your back for when you need to pull in that really big fish.
Check out the "Launching Gear" at www.launchinggear.com and read a great review of the product at www.flyanglersonline.com/prorevw/launchgear.html
---
MARILYN'S CORNER
Old Fashion Bun Warmer
My grandmother had on, my mother had one, Ken's mother had one and now you can have one. This is a sewing project that will make a really neat bun warmer. These actually work and they make great gifts. Remember it's never too early to start working on holiday gifts.

Here's what you'll need:
Some pretty print material, enough for three 12" circles.
1/4" seam binding to match the print.
Cut three 12" diameter circles and edge with 1/4" seam binding.
Place two circles on top of each other with the pattern sides up. Sew across the center left to right to the edges and then sew from top to bottom to the edges.
Cut two 12" pieces of seam binding. Fold in half lengthwise and sew along the edge to close.
On the third circle piece, place one 12" piece top to bottom and the other left to right across the center of the circle. Sew them across the center of the circle about 1 1/2" either side of the center. This will leave a tail on each side that will be tied up later.


Place the single circle on top of the two circles with the pattern and tails on top.
Rotate the top circle until the ties line up with the stitching of the bottom circles.
Sew the top circle to the middle circle half way between the tales. Sew them to within an inch of the center. That's probably all the closer you can get anyhow.
Repeat this between the remaining three ties.

That should complete the assembly of your bun warmer. All that's left is to tie the left and right ties together and the top and bottom ties together. Pull them up snug so that the pockets for the buns open up around the sides. Place the bun warmer in a basket or on a plate. Pop the warm buns in and set it on the table. Everyone will wonder at your neat new creation.

We hope you enjoy Marilyn's Corner and look forward to all the fun things she brings you each week. If you have a fun project that would be suitable for our newsletter we'd love to share it with our readers. Just contact marilyn@runnerduck.com and we'll do the rest.

Remember we have all of our past projects archived on our web site at www.runnerduck.com. Just click on the Projects or Kids Only Eggs.
---
Back to School Boutique

This is a reminder that you can get some of the best buys on back to school items over the Internet. We have some great bargains on back to school items plus free shipping on orders over $75. Take a couple of minutes and check them out, you might just save yourself a bundle.
Just click on the link below.

Back To School Bargains
Click Here
---
The Tempos
News and CD of the Week
Labor Day is here and that means that it's time for The Tempos to start rehearsals again. During the summer months there is so much to do and so many people on vacation that it's hard to get the band together for rehearsals every week. Now that the kids are back in school and the summer travel season is over it's time to buckle down and start working on some great new songs.
---
Don't forget that The Tempos big swing band is available for hire. If you have a special event that could use the wonderful music of a classic big band be sure to contact thetempos@runnerduck.com.

One of my favorite entertainers is Harry Connick Jr. He writes music, arranges, leads orchestras and combos and also is a pretty good actor. This CD is a collection of songs that Harry heard and liked. This is a CD that whole family can enjoy with songs like Supercalifragilisticexpialidocious, Ding-Dong! The Witch Is Dead and Oompa Loompa. If you haven't heard Harry Connick Jr. in a while then this CD is for you.


(CLICK)
Remember, we have a link on our web site, www.runnerduck.com, to our ever popular Grammy® Shopper site. If you haven't been there yet just click HERE to see all the 2003 Grammy® winners complete with links to purchase any one of them.
---
Questions and Answers
Welcome to our Q&A center.
Got questions? We've got answers.
Got answers? We've got questions.
Q: Carolyn writes: Hi There, I have received your newsletter and have enjoyed seeing what you are doing with your dock. I went to your web site because of the name Runner Duck Review. I am looking for information about runners and to purchase 2. I find few in the Washington area. I have 2 African geese and Harley the Welch Harlequin. I want to round off the flock with runners, but can not find any. I would like to get them before fall if possible. I know they are around in spring, but don't want to wait.
Now can you help me with this, do you know a hatchery that has some now?
Thank you and keep on building.
A: Like so many duck questions we pointed Carolyn to www.liveducks.com to talk with Lori one of the best resources on the web for duck questions.
If you know of any runners that are available in the Vancouver, Washington area please let us know and we'll pass the information on to Carolyn.
---
CONSERVATION TIP
We are continuing to get a good response to our request for conservation tips. We'd like to get more so if you have one please send it to conservation@runnerduck.com.
This week's suggestion came from Jane F.
For years, I was always looking for scrap paper for notes! I finally found an almost inexhaustible supply in my own home! When you go thru your mail, keep the paper that is only printed on one side, turn it over and cut it the size you want and you will always have something to take notes on. I have a stack of this kind of paper by the phone, in the sewing room, in the kitchen and in the television room by my chair. Along with this stash of paper, I keep a writing stick (pen, pencil, etc) by each stack.
Thank you Jane for this tip. My mother use to do this but I had forgotten about it, great idea.
If you have a conservation tip please send it to conservation@runnerduck.com and we'll post it in our newsletter.

THIS WEEK'S FREE RECIPE




Fruit Dressing

As the fruit is coming off the trees and vines it's time to figure out how best to prepare them. We think that this fruit dressing is just the ticket for fresh fruits or fruit salad.
2 Tablespoons Butter
1 Tablespoon Flour
2 Eggs, beaten
1/4 Cup Sugar
1/2 Cup Orange Juice or Pineapple Juice
1/2 Cup Heavy Cream, whipped
1 teaspoon Kirsch Liqueur (optional)
Melt the butter in a sauce pan and stir in the flour.
Add the Sugar and beaten Eggs.
Stir with a whisk over low heat until slightly thickened.
Cool and add the Orange Juice and Liqueur if desired.
When you are ready to serve, add the Whipped Cream and pour over the fresh fruit.

This is about the nicest thing you can do to fresh fruit, your guests and family will love it.

Remember, if you have a recipe you'd like to share please send it to marilyn@runnerduck.com.

Every month we post a new recipe on our web page. Be sure and check out the NEW September recipe at the RunnerDuck Kitchen Store.
We'd be happy to post your favorite recipe there or in our newsletter and give you credit. Just drop a line to marilyn@runnerduck.com.
---
COOKBOOK
SUGGESTION OF THE WEEK
"100 Great Salad Dressings" by Sally Griffiths
While our fruit dressing is absolutely wonderful there are a lot of other dressings that are really good. How about 100 good ones? While it's really easy to just go to the store and buy a bottled salad dressing it's a lot more fun to make your own. Not only is it more fun but your guests will be totally impressed with your special dressing.

(CLICK)
Be sure and visit the RunnerDuck Cookbook Store for other great savings on cookbooks and cooking supplies.
---
GREAT DEALS FOR RunnerDuck SUBSCRIBERS
The new Cooking.com exclusive continues! From the popular Calphalon Commercial Hard-Anodized line comes this specially priced 3.5-qt. Windsor Sauce Pan.
This unusual pan, with its flared sides, makes all the difference when cooking a sauce that needs reducing. The shape makes it easier to stir the sauce with a spoon or whisk. A flat, well-fitted lid prevents heat from escaping.
Quantities are limited so get yours right away! Only $39.99.

Just Click Here to take advantage of this great offer.
---
PROJECTS
Hexagon Bird Feeder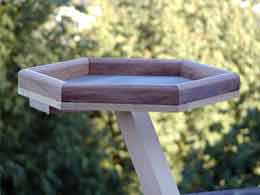 Click on picture for bigger pictures of this project.


We've had this bird feeder for a very long time and it's finally succumbing to the elements. Since we are going to replace it we decided to turn it into a project for you. We like it so much we figured you might like it just as we. The nice thing about it is that it has screen in the bottom so that the rain can run through and the bird seed will dry out really good after the rain.

Here's what you'll need:

2" X 2" X 60" cedar
2" X 4" X 20" cedar
4" X 1" X 16" cedar
1" X 3/4" X 60" cedar
4" X 1" X 6" cedar
Window screen 16" X 16"
Glue
nails
(4) 2 1/2" #8 deck screws
Cut down a 2" X 2" to 1 1/2" X 1" for the top hex frame.
Radius the top side using a 1/2" round over bit in your router.


Cut this down to (6) 9" pieces with 30 degrees on each end.
Cut the bottom hex frame 1" X 3/4" into (6) 9" pieces with 30 degrees on each end.
Cut the cross member 4" X 1" 16" long.
Cut the support arm 2" X 4" down to 2" X 2 3/4" X 17 3/4" with 45 degrees on each end.
Cut the mounting plate 4" X 1" 6" long.
Cut the window screen 16" X 16".
Glue and nail the top hex frame together. If you have a Band Clamp you can use it to glue the pieces together.


Tack the screen to the bottom of the top hex frame or trace the frame onto the screen. Cut off the excess material to the hex shape.
Glue and nail the bottom hex frame to the bottom. Mount the pieces so the ends are opposite to the top pieces.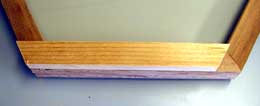 Glue and screw the mounting plate to one end of the support arm.
Glue and screw the support arm to the center of the cross member.
Glue and nail the cross member across the center of the hex.


Mount the birdfeeder to your deck or house using four deck screws into the mounting plate. It is best to predrill and countersink the holes.

Now put some bird seed into it and watch the birdies flock to their new feeding troth.

We hope you've enjoyed this project and have good success with it. Remember, if you ever have any problems with our projects just drop us a line and we'll try to help. Since we build every one of these projects we have a pretty good idea of how to get through them. We also make lots of mistakes so we can help avoid them. If you have a project that you would like to share please drop us a line and we'll help get it published in the RunnerDuck review. We are looking for woodworking, gardening, crafts and kids projects so send us your thoughts at projects@runnerduck.com .
---
The RunnerDuck web site is hosted by



If you are looking for a great hosting service at a terrific price check them out at www.fastwirenetwork.com. If you mention that you heard about them from RunnerDuck you will get a $5.00 per month "Duck Discount" for as long as you have your account.
---
---
JOKE OF THE WEEK
I'm afraid Mike F. has got Ken's number when it comes to jokes. Here's one he sent that was right up his alley.
Murder at Krogers
Tired of constantly being broke and stuck in an unhappy marriage, a young husband decided to solve both problems by taking out a large insurance policy on his wife, with himself as the beneficiary, and arranging to have her killed. A "friend of a friend" put him in touch with a nefarious underworld figure who went by the name of "Artie."
Artie explained to the husband that his going price for snuffing out a spouse was $5,000.
The husband said he was willing to pay that amount but that he wouldn't have any cash on hand until he could collect his wife's insurance money.
Artie insisted on being paid something up front. The man opened up his wallet, displaying the single dollar bill that rested inside. Artie sighed, rolled his eyes, and reluctantly agreed to accept the dollar as down payment for the dirty deed.
A few days later, Artie followed the man's wife to the local Kroger grocery store. There, he surprised her in the produce department and proceeded to strangle her with his gloved hands. As the poor unsuspecting woman drew her last breath and slumped to the floor, the manager of the produce department stumbled unexpectedly onto the scene. Unwilling to leave any witnesses behind, Artie had no choice but to strangle the produce manager as well.
Unknown to Artie, the entire proceedings were captured by hidden cameras and observed by the store's security guard, who immediately called the police. Artie was caught and arrested before he could leave the store.
Under intense questioning at the police station, Artie revealed the sordid plan, including his financial arrangements with the hapless husband.
*** DRUM ROLL (PAUSE) ***
And that is why, the next day in the newspaper, the headline declared
[You're going to hate me for this]
Ready?
"ARTIE CHOKES TWO FOR A DOLLAR AT KROGERS"
---
If you want to talk about something just drop us a line at duckmaster@runnerduck.com any time, we like to talk about most anything. We are always looking for content for our newsletter so if you have something to add we'd love to publish it. Assuming it meets our strict family oriented requirements!

If you forward these newsletters to your friends just drop us a line and we'll do it for you. Just send us their email address and we'll do the rest. Remember, we never share our email list with anyone, period! Just drop me a line or go to our registration page and sign up your friend.

If you enjoyed this newsletter please tell a friend, if you didn't please tell us but in a nice way, we're very sensitive.

To unsubscribe just click HERE. or send an email to unsubscribe@runnerduck.com.

duckmaster@runnerduck.com

All rights reserved, RunnerDuck Productions, 2000, 2001, 2002.
RunnerDuck and its logos are property of
RunnerDuck Productions.
All other logos are property of the individual companies.
We can be contacted at duckmaster@runnerduck.com.