What's New This Week? The Space Shuttle is back up to the International Space Station (ISS) again. Talk about a turkey delivery system, wow! Because of the timing of the flight they were able to have a nice Thanksgiving dinner on the ISS. Can you imagine how cool that must be to be weightless, enjoying a view of the earth from 242 miles up while having Thanksgiving dinner? This flight is a crew change for the space station. The current crew has been up there for over six months and I'm sure they are ready to come home. Remember that you can see the ISS fly by with the naked eye. Since the sightings only happen on certain days and at certain times you need to go to www.nasa.gov and check out when it will be flying over your area.
---
DigiTalk
A couple of weeks ago we talked a little bit about buying a digital camera. We promised that we would bring you some more suggestions but someone beat us to it. Telitha R., one of our long time readers and recent T-shirt winner, told us about a site dedicated to digital cameras. After reviewing this site I'd say that all your questions could be answered here. It appears to be a very noncommercial site with nothing but really good information.
If you are looking to buy a digital camera as a gift or for yourself we highly recommend you first take a look at www.digitalcamerabasics.com/basics.htm. We believe they could save you a lot of grief and help point you in a good direction.
---
SITE OF THE WEEK
First off we'd like to thank Sharon Lacey, the original singer for the Tempos, for pointing us to this site.
This week we are pointing you to a really neat picture of Seattle, Washington. Wow, big deal! What makes this so cool is how the person put it together. It shows Seattle from Elliott Bay in 1907 and 2002. You can click on the different options for screen size and how the pictures display.
If you select one of the fading transitions sizes you'll get a picture of the city either in 1907 or 2002. Click on the opposite button and the picture will transform into the selected year. There appears to have been a few changes in almost 100 years.
While you're at this site I would encourage you to take a look around. There is a ton of really cool stuff here to see. Click on the little kokogiak.com words to be taken to the rest of their site.
Just go to www.kokogiak.com/projects/seawft/reveal_3.html and enjoy.
---
MARILYN'S CORNER
Macaroni Angel Ornament
It's time to get into the Holiday spirit and this Macaroni Angel Ornament is a great way to start. Marilyn's mom use to make hundreds of these and sell them at craft fairs. She also gave just as many away to family and friends.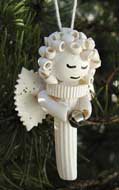 Click on the picture for a bigger view.
Here's what you'll need:
Penne Macaroni
Wheel Macaroni
Elbow Macaroni
Bow Tie Macaroni
Salad Macaroni
3/4" Wooden Ball
Small Bell
Tacky Glue
White Spray Paint
Sparkles
String

Glue a wheel macaroni on top of a Penne macaroni.
Glue the wooden ball on top of the wheel macaroni.
Put glue on the area of the ball to be covered with hair (salad macaroni). Dip the ball into a cup of salad macaroni to attach the hair. Be sure that there is one macaroni centered on top turned sideways so you have a place to put the string.
Glue the bow tie macaroni on in back for wings.
Glue two elbow macaroni on for arms. They should be centered on and touch the bow tie macaroni.
Spray paint the entire angel.
Sprinkle some sparkles on the bow tie macaroni while the paint is still wet.
Glue the bell on like the hands are holding it. You can also fold up a small piece of paper to make it look like a book.
Draw on the eyes and mouth with a fine Sharpie pen.
Put a string through macaroni on top and you're ready to add it to your tree.
Make lots of these for your tree and for gifts.
We really hope you enjoy Marilyn's Corner and look forward to all the fun things she brings you each week. If you have a fun project that would be suitable for our newsletter we'd love to share it with our readers. Just contact marilyn@runnerduck.com and we'll do the rest.
Remember we have all of our past projects archived on our web site at www.runnerduck.com. Just click on the Projects or Kids Only Eggs.
---
We've been getting some good reports from people who have ordered Alexia's children's books. They like the quality and the personalized approach. With the holiday coming we want to remind you about these wonderful books so you don't miss out. Alexia's Personalized Books are these really neat custom created books with great stories and pictures. When you order them you provide a little personal information like the child's name, town, grand parents name, etc. With this they create a custom book just for that child that puts the child right in the middle of the story. We got one of these for Camden, our grandson, and he just loves it.
Check them out at Alexia's Personalized Books.

Also, be sure and visit the
RunnerDuck Toy Store.
---
The Tempos News and CD of the Week
Just one more week of physical therapy on Ken's shoulder before a three hour dance at the Boeing Museum of Flight. It's going to be a real contest to see who wins out the drums or the pain.
Don't forget that The Tempos big swing band is available for hire. If you have a special event that could use the wonderful music of a classic big band be sure to contact The Tempos at thetempos@runnerduck.com.
Gordy, one of the Tempos trumpet players, has an old set of Benny Goodman 45's that he just loves but doesn't want to wear them out. We found the same set on CD so now he can play those great songs over and over with out any further wear on the old vinyl. Since he likes it so much we thought we'd share it with you.
"Live at Carnegie Hall: 1938 Complete" was remastered in 1999. In jazz, live recordings not only document an artist or group's sound in its purest form but, in rare cases, herald the arrival of a musical genre. That's the case with this invaluable, two-CD collection that captures clarinetist Benny Goodman's historic 1938 Carnegie Hall concert, which exemplified the so-called "swing era." Originally released in 1950, it contains rare commentary from Goodman and music from the entire event, which was a unique mix of formality and spontaneity. Goodman's perfect intonation and lyrical improvisation front the big band here, featuring the smooth solos of trumpeter Harry James, the percussive power of Gene Krupa-jumping the blues on "Don't Be That Way"--and the Fletcher Henderson- arranged "Sometimes I'm Happy" and "One O'clock Jump".
You can get the Live at Carnegie Hall: 1938 Complete 2 CD set for only $22.99, that's a great price.
---
JOKE OF THE WEEK
It was autumn, and the Indians on a remote reservation asked their new Chief if the winter was going to be cold or mild. Since he was an Indian Chief in a modern society, he had never been taught the old secrets. When he looked at the sky, he couldn't tell what the weather was going to be. Nevertheless, to be on the safe side, he replied to his tribe that the winter was indeed going to be cold and that the members of the village should collect firewood to be prepared.
Also, being a practical leader, after several days he got an idea. He called the National Weather Service and asked, "Is the coming winter going to be cold?"
"It looks like this winter is going to be quite cold indeed", the meteorologist at the weather service responded. So the Chief went back to his people and told them to collect even more wood in order to be prepared.
A week later, he called the National Weather Service again. "Is it going to be a very cold winter?"
"Yes," the man at National Weather Service again replied, "it's definitely going to be a very cold winter." The Chief again went back to his people and ordered them to collect every scrap of wood they could find.
Two weeks later, he called the National Weather Service again. "Are you absolutely sure that the winter is going to be very cold?"
"Absolutely," the man replied. "It's going to be one of the coldest winters ever."
"How can you be so sure?" the Chief asked.
The weatherman replied, "The Indians are collecting wood like crazy."
---
CONSERVATION TIP
Now that it's getting colder we all hate getting into that cold car in the morning and heading for work. Other than comfort there is no need to "warm up" your car. With the tighter tolerance engines and better additives in the oil you can just get in your car and go. When you first start your car the gas is adjusted to help keep it running until it warms up. This consumes a lot more gas then when everything is warm and you are driving down the road. The best thing to do is start your car and drive out of the neighborhood slowly while it warms up. This will get you going and conserve gas. By the time you get to the freeway or into traffic your car should be warmed up and ready to roll.
If you have a conservation tip please send it to conservation@runnerduck.com and we'll post it in our newsletter.
---
The RunnerDuck Goodies Store
Check out our cool polo shirt at the RunnerDuck Goodies Store. There are lots of other neat RunnerDuck items also.

THIS WEEKS FREE RECIPE
Cocoa Mix
As we head into this gift giving season nothing is better than giving a home made gift. This week's recipe is something for you to make for a holiday gift and give to a friend.
1 Air tight quart jar
2 Cups Dairy Creamer
1 2/3 Cup Sugar
3/4 Cup Cocoa
3/4 Cup Powdered Milk
1/2 teaspoon Salt
1/4 Cup Instant Coffee (optional)
Mix all the ingredients together really good.
Pour the mixture into the jar.
Add a pretty ribbon and dried flowers or other decoration.
Include directions for mixing:
"Add 2 - 3 Tablespoons of Mix to 1 Cup of Boiling Hot Water!"
Make up a bunch of them for everyone. It's easy and they'll love it.
Remember, if you have a recipe you'd like to share please send it to marilyn@runnerduck.com.
Every month we post a new recipe on our web page. Be sure and check out our NEW December recipe at the RunnerDuck Kitchen Store.
We'd be happy to post your favorite recipe there or in our newsletter and give you credit. Just drop a line to marilyn@runnerduck.com
---
COOKBOOK
SUGGESTION OF THE WEEK
This cookbook is the perfect complement to this weeks recipe. "Gifts in a Jar: Holiday Fun" is filled with recipes to make your own gifts. Each mix fits into a quart jar. The book even includes tags complete with recipient directions with each recipe. Just cut it out, personalize and attach to the jar. Fun to make and affordable, gifts in a jar make great gifts for neighbors, teachers and friends! Here's even a better idea, why not include this cookbook with the cocoa mix you made for a gift, great idea!
Click HERE for "Gifts in a Jar: Holiday Fun".

Be sure and visit the RunnerDuck Cookbook Store for other great savings on cookbooks and cooking supplies.
---
The RunnerDuck web site is hosted by



If you are looking for a great hosting service at a terrific price check them out at www.fastwirenetwork.com. If you mention that you heard about them from RunnerDuck you will get a $5.00 per month "Duck Discount" for as long as you have your account.
---
PROJECTS
Runner Duck Push Toy
It's time to get out in the wood shop and start making those great Holiday gifts for your kids and grand kids. This weeks project is simple and yet will give hours of pleasure to that special little someone in your life.

Click on picture for larger image.

Here's what you'll need:
6" X 36" X 3/4" Pine or other soft wood.
3" X 14" X 1/4" Oak or other hard wood.
1/4" X 3" Dowel.
2 leather patches from a fabric store, oval at least 4" X 6".
Wooden Ball with a 3/8" hole in it.
3/8" by 18" dowel.
Glue.
Acrylic white paint.
Acrylic orange Paint.
Fine tip black marking pen.

Using the pattern at www.runnerduck_toy_pattern.htm, trace the body onto a 3/4" piece of Pine.
Cut it out using a band saw, scroll saw or coping saw.


Trace two wheels onto a piece of 3/4" pine. Cut these out being very careful to keep them round.
Trace the wings onto 1/4" Oak and cut them out.
Sand and smooth only the outside edges of the wings. Leave the insides with sharp edges.
Sand the body and smooth all edges.
Using a router put a 1/4" to 1/2" radius on both sides of each wheel.
Drill a 1/4" hole 3/4 of the way through the center of each wheel.
Cut a notch 1/2" deep on each wheel. This notch needs to be just wide enough for the leather. It's best if you have to force the leather into the crack a little.


Drill a 9/32" hole in the body where indicated on the drawing.
Align and glue the wings onto the body.


Paint the body white and the wheels orange.
Paint on the beak and eyes.
Trace the feet onto the leather patches and cut them out.
Glue the feet in opposite directions on each wheel.
Cut the 1/4" dowel just long enough to go through the body, bottom out in each hole plus an 1/8". This should allow the wheels to turn freely.
Glue and press the 1/4" dowel into one wheel.
A 1" nylon washer on each side is a nice addition. Now put the shaft through the body and glue it into the other wheel. Be sure to align the wheels so the feet are one at the top and the other at the bottom.
All that's left is the push handle. Make it out of 3/8" dowel. Depending on the size of the person you are making it for cut it between 12" and 18".
Drill a 3/8" hole along the back about 7 1/2" up from the tail. The hole should be at about a 45 degree angle and 1" deep.
Glue the handle into the body and glue the ball onto the handle. You can paint the handle first or just leave it natural.

Have fun making this toy and even more fun giving it to that special child. If you have a project that you would like to share please drop us a line and we'll help get it published in the RunnerDuck review. We are looking for woodworking, gardening, crafts and kids projects so send us your thoughts at projects@runnerduck.com.
---
Until Next Time...
Now that the Christmas season is upon us we'd like to recommend that you check out some of our stores for your gift shopping. Just go to our Shopping Center, www.runnerduck.com/shop.htm and click on a store. We have lots of great buys for the holidays.
---
If you want to talk about something just drop us a line any time, we like to talk about most anything. We are always looking for content for our newsletter so if you have something to add we'd love to publish it. Assuming it meets our strict family oriented requirements!

If you forward these newsletters to your friends just drop us a line and we'll do it for you. Just send us their email address and we'll do the rest. Remember, we never share our email list with anyone, period! Just drop me a line or go to our registration page and sign up your friend.

If you enjoyed this newsletter please tell a friend, if you didn't please tell us but in a nice way, we're very sensitive.

To unsubscribe just click here or send an email to unsubscribe@runnerduck.com.

All rights reserved, RunnerDuck Productions, 2000, 2001, 2002.
RunnerDuck and its logos are property of
RunnerDuck Productions.
All other logos are property of the individual companies.
We can be contacted at duckmaster@runnerduck.com