This project appeared in our July 11th, 2003 Newsletter.

We've been seeing these at street fairs and Saturday markets around the area and since we had an old license plate we decided to make our own. They are simple and a good way to use up an old license plate.

Click on the picture for a bigger view
Here's what you'll need:

1" X 8" X 4' Cedar
License Plate
#6 X 1 1/4" deck screws
Nails
1 1/8" drill bit
1/4" drill bit
Cut the sides 4" X 6 1/4" with a 45 degree bevel along the top.
Cut the front 7" X 9" with a 45 degree peek. Measure 3 1/2" down from the top and draw a line from the sides to the peek for your 45.
Drill a 1 1/8" hole centered about 4" up from the bottom.
Drill a 1/4" hole for the perch centered about 1" below the big hole.
Cut the back 7" X 9 3/4" with a 45 degree peek, same as the front.
Cut the bottom 6 1/4" X 7".
Nail or screw all the pieces together.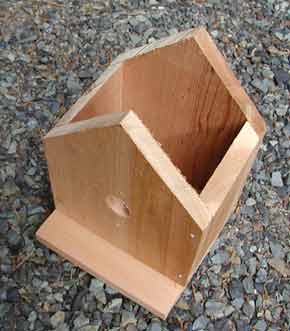 Bend the license plate in the middle to fit the roof. You may have to tap the sharp corner of a piece of wood to give it a little crease.
Screw the license on the top and your hotel is ready for occupants.

This is a great little project to do with your kids or grandkids. We hope you have fun with it.

We hope you've enjoyed this project and have good success with it. Remember, if you ever have any problems with our projects just drop us a line and we'll try to help. Since we build every one of these projects we have a pretty good idea of how to get through them. We also make lots of mistakes so we can help avoid them.