What's New This Week? We've replaced our "Until Next Time" column with a new "Question and Answer"section. While we don't get a lot of questions we do get enough that wethought we'd share them with you. Many times a person will have a questionabout something but be a little shy about asking it or taking the time tosend an email. We thought sharing other people's questions and the answersprovided might help and inspire you. We're also hoping that it becomes aforum where other readers will jump in with an answer. We'll post bothquestions that we've answered and questions that are looking for answers. Wehope you find this useful and will participate. Just scroll down thisnewsletter to "Q&A" for the latest conversations.
---
DigiTalk
This week I'd like to talk about email. In this instant world of click andsend we sometimes forget about the finer points of communicating withanother person. Take a look sometime at old letters that were hand writtenyears ago, when people actually used a pen and paper to communicate. Thewords were well thought out and there was a certain structure of civility tothem. I believe we have lost that in this new medium of communication.Short, uninteresting notes are more the norm than and interesting story. Thenext time you are writing an email take a little bit more time and writesomething worth reading. Here are a few tips.
Structure it as though it were a hand written letter.
If you are writing something that is potentially emotional don't hit thesend button until you have walked away from it for a while. Come back laterand then read it again before you fire it off.
Don't write emails in all caps (upper case). It's like yelling at someoneand no one likes to be yelled at.
If you are replying to someone's email, don't leave their whole emailincluded. Delete all but the pertinent parts. It will make it easier to readand uses less band width.
Make sure that your message precedes anything you've included from a previousemail. That way the person does not have to scroll through it to find outwhat you've said.
If you are sending your email to more than one person you might want to usethe BCC (blind carbon copy) box for the addresses. This prevents everyonethat gets the email from seeing everyone else's email address.
Now go write something nice to a friend or family member.
---
SITE OF THE WEEK
We've found another little piece of freeware that just might make your computing life a little easier. If your mind is anything like mine then you write down a lot of things. Notes here, notes there, now let's see where did I put that note?
Quicknote might just be the program for you. It's a small program that puts a note block on your computer that is very configurable. You can keep it on top, make it go behind programs or have it pop up from the start bar. Change the colors, transparency and much more. You can draw on it or type text, very cool. When you have a thought just write it down on Quicknote and it will be there the next time you need it.
You can get Quicknote at http://jcmb.jens-m.de/quicknen.html. If you really like it they ask for a donation but it's not required to get the software.
If you have a favorite site please send it to us so we may share it with the rest of our readers. Send it to duckmaster@runnerduck.com.
---
MARILYN'S CORNER
Potting Stakes
It's getting to be time to start potting some plants. One of the questions that always comes up is what's the best way to mark what you've planted. We think that these potting stakes are simple, look nice and work great.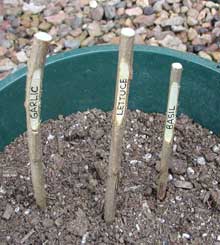 Here's what you'll need;

Some small branches from a tree.
A sharp knife. If you are having your kids do this be sure and supervise them in using a sharp knife.
Permanent marking pen, fine point.
Cut your twigs approximately 6" to 8" long.
Whittle a point on one end. It doesn't need to be really sharp unless you are planting in hard pan ;-)
Whittle a flat spot near the other end. Only go about 1/4 of the way through the stick.
Using you permanent marking pen, write the name of your plants.
Now stick them in the ground along side your seeds and you'll know what they are when they start coming up.

Simple but effective. Now get out there and start planting. If you're looking for a cold frame to do your planting in, we have the free plans on our web site at www.runnerduck.com/coldframe.htm.

We hope you enjoy Marilyn's Corner and look forward to all the fun things she brings you each week. If you have a fun project that would be suitable for our newsletter we'd love to share it with our readers. Just contact marilyn@runnerduck.com and we'll do the rest.

Remember we have all of our past projects archived on our web site at www.runnerduck.com. Just click on the Projects or Kids Only Eggs.
---
KIDS TOOLS
It's always fun to have your children working right along side of you with their own kid safe tools. Home Depot along with Toys R Us have a really great selection of kids tools at really good prices. Check them out by clicking on the link below.
---
The Tempos
News and CD of the Week
The Tempos will be playing for a wedding fair at the Country Village in Bothell, Washington at 6:00PM, March 12th. If you are in the area stop by and check us out. It's free and we'll be playing only until 8:00. This is a great opportunity to make your summer wedding plans.
You can check out our summer schedule at the Tempos web site www.thetempos.com/jobs.htm. If you are making plans to visit Seattle this summer try to fit in one of our fun concerts.
---
Don't forget that The Tempos big swing band is available for hire. If you have a special event that could use the wonderful music of a classic big band be sure to contact thetempos@runnerduck.com.

In case you hadn't noticed the 45th annual Grammy awards were handed out last Sunday. It's always controversial because not everyone can win. While we won't comment on all the controversy we would like to bring you the top five Jazz category winners this year.

Just Click on an album cover to check it out!

Best Contemporary Jazz Album



Speaking Of Now
Pat Metheny Group
Best Jazz Vocal Album


Live In Paris
Diana Krall
Best Jazz Instrumental Solo and
Best Jazz Instrumental Album, Individual or Group


My Ship
Herbie Hancock, soloist
Best Large Jazz Ensemble Album


What Goes Around
Dave Holland Big Band
---
The RunnerDuck web site is hosted by



If you are looking for a great hosting service at a terrific price check them out at www.fastwirenetwork.com. If you mention that you heard about them from RunnerDuck you will get a $5.00 per month "Duck Discount" for as long as you have your account.
---
CONSERVATION TIP
How about some forced conservation? They announced in Tacoma, Washingtonthis week that police will start handing out $86 fines to people who starttheir cars to warm up and leave them unattended. 10% of all cars stolen inTacoma are from people that have left their keys in and the car running,dah. Not only does this waste fuel it also is wasting a chunk of change ifyou get caught. A better alternative is to put on something warm and startdriving slow. It usually doesn't take all that long for your car to warm upand you'll be saving a few bucks not to mention possibly your car from beingstolen.
If you have a conservation tip please send it to conservation@runnerduck.com and we'll post it in our newsletter.
---
Questions and Answers
Welcome to our new Q&A center.
Got questions? We've got answers.
Got answers? We've got questions.
Shannon writes:
Q: I was looking over your cold frame...really looks nice. Do you find that the frame gives you an adequate height for your seedlings/plants? Does it get over heated quickly due to the small size?
A: Our thoughts are if the plants are starting to reachthe top of the cold frame it's time to transplant.
On the temperature it really depends on where you live and thedaytime/nighttime temperatures. Generally you don't want it to getmuch above 80 degrees F. We typically open ours up a little bit duringthe day and close it up at night. Keep a thermometer in the cold frame to help regulate the temperature.
Chris writes:
Q: I'm restoring my 1961 Sunbeam Alpine and need a gas cap. You wouldn'thave one in your barn would you. Last fall I had the engine and breaks rebuilt and this spring the sheet metal will be started. I lostthe cap 20 years ago just before I put it up. Hope to be on the roadthis summer.
A: No I don't. I only have the one I'm using. You could try some of the Sunbeam links at the bottom of our Sunbeam web page, www.runnerduck.com/sunbeam.htm. Anyone out there able to help?
---
The RunnerDuck Goodies Store
Check out all the great products in the RunnerDuck Goodies Store. Show the world that you love RunnerDuck!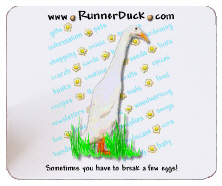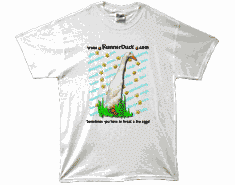 There is lots of other cool stuff at the RunnerDuck Goodies Store.

THIS WEEK'S FREE RECIPE




English Muffin Madness

Elainie sent us this tasty treat saying, "I am a mom of 4 beautiful children (2boys-2girls) and they come home from school pretty famished some times. So I thought that I would make them something quick and easy that they could eventually learn to make on their own and have a great time doing! They love it and can never get enough of it!


1 package of any type of English muffins, plain usually but raisin tastes great too!
1 jar/container of marshmallow fluff
1 jar/container of peanut butter (Reeses p. butter is what we use but reg. is fine)
1 pkg. of powdered sugar
1/2 cup of mini marshmallows-(which are optional)
1 jar of cinnamon (the jar w/shaker to sprinkle)
you can also use a pkg. of Reeses pieces candy-(optional also)
You split open an English muffin and put in toaster till its nice and toasty but not too toasty! You don't want it too crunchy unless that is how you like them!
Now spread the p-nut butter on one half of the muffin and spread fluff on the other half like a sandwich.
Sprinkle some powdered sugar on the side with the p-nut butter and sprinkle cinnamon on the side with the fluff. Using some fluff, as tasty glue, take some mini marshmallows / Reeses pieces candy and make a happy face on the top of your muffin after sandwiching the two sides together!
Once all the ingredients start to melt from the warmth of the toasted muffin, it melts in your mouth!
"I hope you enjoy our Rodriguez family, not so home made, kids love it, recipe!" It sounds great Elainie, thanks for sharing it with us.
Remember, if you have a recipe you'd like to share please send it to marilyn@runnerduck.com.
Every month we post a new recipe on our web page. Be sure and check out the February recipe at the RunnerDuck Kitchen Store.
We'd be happy to post your favorite recipe there or in our newsletter and give you credit. Just drop a line to marilyn@runnerduck.com.
---
A GREAT DEAL FOR RunnerDuck SUBSCRIBERS

Cooking.com is having their Semi-annual Cookware and Bakeware SALE featuring 20-60% Off on Calphalon! Just click on the banner below for these great deals.
---
COOKBOOK
SUGGESTION OF THE WEEK

(click)

"Healthy Treats and Super Snacks for Kids"
by Penny Warner

Elainie's recipe above may not fall into the totally healthy category we think that this week's cookbook suggestion just might. It has lots of great recipes for the kids. One reviewer of this book wrote; "The recipes in this book have been wonderful for my home childcare business. Not only are they nutritious, delicious, quick and eye appealing, they are fun for the kids and they satisfy a variety of ages."

Be sure and visit the RunnerDuck Cookbook Store for other great savings on cookbooks and cooking supplies.

Flower Cart, Step 2

Last week we made the handles for our flower cart. If you missed it you can always go back and check it out at www.runnerduck.com/02-21-03.htm and scroll down to this project.
This week we'll build the frame for the wheels and add the bottom and top table.

Click on Picture for a bigger view of the whole project.


Here's what you'll need;
4 Cedar 2" X 4"s 8' long
2 Cedar 1" X 4"s 8' long
6 Cedar 1" X 6"s 8' long
8 Carriage blots 3/8" X 3 1/2" with nuts, flat washers and lock washers.
4 - 2 1/2" 1/4-20 bolts, washers and nuts
2 1/2" X # 10 deck screws.
1 5/8" X #6 deck screws.
24" steel wheels. You can get them at www.meiselwoodhobby.com or search the web.
We'll start by making the legs.
Cut 2 leg spreaders 2" X 4" X 18".
Cut 2 Axel legs 2" X 4" X 23".
Cut two legs 2" X 4" X 35 1/2".
Cut the bottom of the two legs to a taper 2 7/8" up from the bottom and 1 3/4" in from each side. This should make a 15 degree angle.
Drill and counter sink pilot holes for the spreader so the spreader is 23" from the top of the leg to the bottom of the spreader.
Drill and counter sink pilot holes for the spreader on the axel legs so that the spreader mounts flush with the bottom of the axel legs.


Mount the legs to the handles 17" from the handle ends. Drill two holes while clamping the leg to the handle.


Bolt the legs onto the handles using the 3 1/2" carriage bolts.
Repeat this process for the axel legs placing them 24 inches away from the legs.
Mount the axels for the wheels to the bottom of the axel leg spreader. Drill a countersink hole on top for each hole so the head of the screw and washer will sit flush with the top of the spreader.


Mount the axels using (4) 2 1/2" 1/4-20 bolts, washers and nuts.


Grease the axels and install the wheels.
Cut (5) 1" X 4"s 31 1/4" long for the bottom.
Drill and countersink pilot holes for mounting the bottom boards to the spreaders. Space them evenly across the distance.


Cut (9) 1" X 6"s 24" long for the top.
Drill and countersink pilot holes for mounting the top boards. Start 3/4" from the front and but each piece together.

That's it for this week. Next week we'll add the sides, front and back.

If you have a project that you would like to share please drop us a line and we'll help get it published in the RunnerDuck review. We are looking for woodworking, gardening, crafts and kids projects so send us your thoughts at projects@runnerduck.com.
---
JOKE OF THE WEEK

This picture was sent by several people so I don't really know who to give credit to. This is not pointed at any particular oil company just the situation in general.
---
If you want to talk about something just drop us a line at duckmaster@runnerduck.com any time, we like to talk about most anything. We are always looking for content for our newsletter so if you have something to add we'd love to publish it. Assuming it meets our strict family oriented requirements!

If you forward these newsletters to your friends just drop us a line and we'll do it for you. Just send us their email address and we'll do the rest. Remember, we never share our email list with anyone, period! Just drop me a line or go to our registration page and sign up your friend.

If you enjoyed this newsletter please tell a friend, if you didn't please tell us but in a nice way, we're very sensitive.

To unsubscribe just click HERE. or send an email to unsubscribe@runnerduck.com.

duckmaster@runnerduck.com

All rights reserved, RunnerDuck Productions, 2000, 2001, 2002.
RunnerDuck and its logos are property of
RunnerDuck Productions.
All other logos are property of the individual companies.
We can be contacted at duckmaster@runnerduck.com.