What's New? First we want to mention that we finally have our complete vacation travelogue posted on our web site. If you get a minute you might check it out. We had a really fun time and enjoy sharing it with you. Go to www.runnerduck.com/vacation_2006.htm and enjoy.

Kitty Door Wars Update: Last month we told you about our cat Miss Kitty Kitty and her refusal to use the fancy new automatic, IR, high tech cat door. Well she still has not warmed up to the new door and we continue to have a neighbors cat come in through the door and eat all her food and play with her cat nip plant.

We've taped the door open and she'll use it but so does the other cat. We've started lowering the door a little bit every couple of days and she's still using it so one of these days we are hopeful that shell get the swing of it so to speak.

In the mean time we have started putting up her food at night to discourage the other cat. Of course night time is the time when she likes to eat so Marilyn has started serving her in bed with her food bowls in a large square Tupperware container. We still seem to get the cat coming in looking around but we think that it's starting to get discouraged, at least we hope so.
---
DigiTalk
If you have followed our travel adventures you know that we use a GPS attached to our computer which runs DeLorme Street Atlas software. We just got the latest 2007 edition and installed it. They have a special where you can get a wireless bluetooth GPS that you can use with your PDA. I happen to have a Treo 650 and thought it would be a good combination for when I'm traveling on business. You load the maps of the areas where you will be going into the PDA from your desktop or laptop computer. You can also load routes the same way. The PDA then shows your progress on the map of the display. It will tell you that your next turn is "one mile ahead" and which direction to turn. It also displays the distance to your next turn, has a big arrow showing the direction of the turn and the name of the street on which to turn. This is all in big print so it's easy to read. That's all the good news.

The not so good news is that the map is tiny and does not get in very close to a location. It has some options that you can change the contrast of the map and the size of the text that makes it a little easier to see when you are driving a car.

I've been using it back and forth to work and it does a pretty darn good job and I think I'll like it when I'm in an area that is unfamiliar to me.

If you are interested in the DeLorme bluetooth GPS you can find it, here!

While I've not used one the TomTom has a PDA version also. The screen looks better than the DeLorme version but that's all I can tell you. You can find out more about the Tom Tom here.
---
SITE OF THE MONTH
Walking is a good thing right? Reading about somebody walking is a fun thing. There are a number of people who have taken up walking and talking about it in their blogs. What's a blog you ask? It's short of Web Log and they are web sites that chronicle peoples thoughts and ideas on an ongoing basis. There are all sorts of blogs covering any subject you may have interest in. Some are fun, some are serious and some are just plain stupid. Ken's brother Ron has a new blog called Walking Fort Bragg (California) and it documents his travels around the town when he goes for his daily walk. There are some very interesting photos of Fort Bragg and his writing style is unique to say the least. He also has links to other walking blogs from people who are walking in other parts of the world. It gives you a unique insight to a particular area that you would not otherwise see.
To check out Ron's Walking Fort Bragg blog go to www.blabberon.com/blog.htm and enjoy your visit.
---
MARILYN'S CORNER
Friendship Blessing Bottle
This neat craft idea came from sister Susie. Here's a really nice gift idea for you to make. They look nice and has a very special meaning. Make them for your friends at work or for that family member that's really hard to buy for.

Here's what you'll need:
A cork top bottle. Oval bottles work great because you can see inside really good.
Some ribbon.
Spices, I used Catnip, Cloves, Lavender, Achillea, Chamomile, Marjoram and Rose Peddles.
A card, hand printed or generated on the computer.
Layer the spices in the bottle one on top of the other until the bottle is full.
Put the cork in the bottle.
Tie the ribbon around the bottle.
Print the card and attach it to the bottle with a small ribbon or string.

Here's what goes on the card:

On the outside; FRIENDSHIP BLESSING BOTTLE.

On the inside;

Catnip for lasting friendship
Cloves to protect from gossip
Lavender for peace and tranquility
Achillea for respect and admiration
Chamomile to help wishes come true
Marjoram for joy and happiness
Rose Peddles for love
You can get most of these items from your local craft store or your cupboard. It's fun to even make up your own sayings for different spices.

Have a ball and a happy holiday!

Remember we have all of our past projects archived on our web site at www.runnerduck.com. Just click on the Craft Egg.
---
Kids Stuff


(CLICK)

We've got ridiculously low prices! Save up to 30% on the hottest toys. Plus, get FREE Super Saver Shipping on orders over $25 shipped from and sold by Amazon.com (restrictions apply) and Amazon Prime. Just click on the savings above to check out all the great deals to make your Christmas shopping easier.
---
The Tempos
News and CD of the Week
Here's a great holiday gift idea. Buy your favorite music lover The Tempos "Big Swing" CD!
"Big Swing" features fourteen great swing songs from the 40's and 50's. If you love the old big band swing music we think you'll enjoy this CD. It's the kind of music that makes you just want to get up and dance, you do remember how to swing don't you?
The only place you can get this CD is from our web site. Go to www.thetempos.com and click on the "Click Here" at the top of the web page or

CLICK HERE.
We only printed up a thousand of them so get yours before the are all gone!
If you'd like to get a taste of this CD just go to The Tempos web site. When you are at the Tempos web site click on the horn valve button that says "Hear our CD". Then click on the song titles to hear a little bit of each song.
The Tempos big swing band is available for hire. If you have a special event that could use the wonderful music of a classic sixteen piece big band be sure to contact kennyb@runnerduck.com. We perform all over the Seattle area for all sorts of events.
---
Album Pick of the Week
"Big Band Christmas"
By Ralph Carmichael

Last year Roger, one of The Tempos trumpet players, turned me onto this wonderful big band Christmas CD. I had a heck of a time finding it but this year there are a few copies left and I'd highly recommend grabbing one before they are all gone.

If you love big band music and are looking for a Christmas CD that really represents the big band era then I really do recommend this CD. I've listened to it a bunch and during this holiday season will listen to it a bunch more.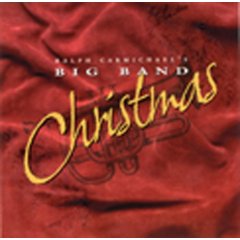 CLICK!
---
CONSERVATION TIP
Here are some really good energy saving tips from our local power company:
Set your home's thermostat at the coolest level you can without making your rooms uncomfortable. For most homes, the heating bill drops by about 2 percent for every 1 degree the thermostat is lowered.
Lower your home's thermostat at bedtime or while you're away during the day. (See Tip #7.) Setting the thermostat to 58 degrees while you're asleep (you may need an extra blanket!) can cut your natural-gas bill by up to 7 percent.
Seal up leaky drafts around doors and windows with weather-stripping, caulking, and door sweeps. (And don't forget to keep the damper closed on a fireplace or wood-burning stove when it's not in use.) Also seal up any leaks or gaps in furnace ducts that extend through unheated basements or crawl spaces.
Have your furnace inspected and tuned every two to three years (before the heating season starts), and clean or replace the air filters on your furnace every two months during the heating season. Your furnace will run more efficiently and use less energy.
Set your water heater's thermostat to 120 degrees Fahrenheit. Lowering it from a higher setting will save you money and reduce the risk of being scalded.
Take shorter showers, wash clothes in cold water, and don't over-dry your clothing.
If you have a conservation tip please send it to kennyb at runnerduck.com and we'll post it in our newsletter.
---
The RunnerDuck web site is hosted by



If you are looking for a great web hosting service with fantastic support check out www.fastwirenetwork.com. If you mention that you heard about them from RunnerDuck you will get a "Duck Deal". Just ask about your Duck Deal when you sign up.
---
RSS News Feeder
One of the best ways to get our newsletter is to have it delivered to your door step. Actually it would be delivered to your desktop!

Highlight the XML link (right click and drag over it), select Copy and paste it into your newsreader.

Or just paste http://www.runnerduck.com/runnerduck.xml into your newsreader.

A good free news reader is Awasu and you can download it at www.awasu.com.

Don't know what this is all about? Check out our little tutorial HERE!
---
---
JOKE OF THE MONTH
A young guy from Yakima moves to Seattle and goes to a big "everything under one roof" department store looking for a job.
The Manager says, "Do you have any sales experience?"
The kid says "Yeah. I was a salesman back in Yakima."
Well, the boss liked the kid and gave him the job. "You start tomorrow. I'll come down after we close and see how you did. His first day on the job was rough, but he got through it. After the store was locked up, the boss came down. "How many customers bought something from you today?
The kid says "one".
The boss says "Just one? Our sales people average 20 to 30 customers a day. How much was the sale for?"
The kid says "$101,237.65".
The boss says "$101,237.65? What the heck did you sell?"
The kid says, "First, I sold him a small fish hook. Then I sold him a medium fishhook. Then I sold him a larger fishhook.
Then I sold him a new fishing rod. Then I asked him where he was going fishing and he said down the coast, so I told him he was going to need a boat, so we went down to the boat department and I sold him a twin engine Chris Craft. Then he said he didn't think his Honda Civic would pull it, so I took him down to the automotive department and sold him that 4x4 Expedition."
The boss said "A guy came in here to buy a fish hook and you sold him a BOAT and a TRUCK?"
The kid said "No, the guy came in here to buy tampons for his wife, and I said, "Dude, your weekend's shot. You should go fishing."

THIS WEEK'S FREE RECIPE




Taffy

Everyone likes candy and it's especially fun when several people can help make it. When's the last time you had an old fashion taffy pull? Here's a simple recipe for taffy that could be a lot of fun this holiday season.
2 Cups Karo White Syrup
3 Tablespoons Vinegar
1/2 Cup White Sugar
1 Tablespoon Butter
1/2 teaspoon Soda
Dissolve the Sugar in the Vinegar.
Add the Syrup and Butter.
Boil to a candy "Hard Ball" stage stirring often.
Stir the Soda in quickly and beat for 1 1/2 minutes.
Pour into a buttered plate and spread out.
Pour the flavoring of your choice along with Vanilla over the top before pulling.
When cool, fold in the flavoring and pull it until it is white.
Roll the taffy into a small rope and cut off candy size pieces. Wrap the pieces in waxed paper.

Now doesn't that sound like a lot of fun? Enjoy the holidays and enjoy the taffy!

Remember, if you have a recipe you'd like to share please send it to Marilyn@runnerduck.com. We'd be happy to post your favorite recipe on our Kitchen site or in our newsletter and give you credit.

Every month we post a new recipe on our web page. Be sure and check out the New recipe at the RunnerDuck Kitchen Store.
---
COOKBOOK
SUGGESTION OF THE MONTH
"Who Wants Candy?"
by Jane Sharrock

(CLICK)
While we're on the subject of candy we found this wonderful candy cookbook just in time for Christmas. We think that Madelyn Pryor from Mesa, Arizona summed up this recipe book best. She writes, Serious, this is the best book on making candy out there. I've looked, I know. I own over 300 cookbooks, and yet, if I want something sweet, this is my go to book. Not only has Jane Sharrock taken all the mystery out of making candy with 27 pages of easy to follow directions and instructions, she rates every recipe, telling whether it's Novice Super Simple, Novice Easy, Average, Advanced, and Expert. She tells you how much the recipe will make and exactly what you need to make it- not only the food ingredients, but all the utensils, so you can be sure you have everything on hand before you start.
The recipes themselves are a treasure hoard of delights from the elegant to simple, from complicated to comfortable. Generations of her family are represented by recipes and she tells delightful anecdotes about most of them along with the recipes. Because such a broad range of time is covered, you'll not only discover new treats, you'll find family favorites.
My only word of warning is that there aren't many pictures, so if you're someone like my friend Lindsay that thinks cookbooks need pictures I wanted to warn you, but I still recommend this book! It's perfect the way it is.
---
WOOD PROJECT PLANS
DOWNLOADABLE & MAIL-DIRECT
WOODWORKING PLANS
Download WOOD StoreŽ woodworking plans directly to your computer and start building in just minutes! OR, we'll mail them to you, your choice!


CLICK!
---
PROJECTS
Wine Rack
I had been looking for plans to make a wine rack but couldn't find exactly what I was looking for so decided to design my own. I wanted something that was functional yet had a nice appearance to it. I came up this this walnut and maple crisscross design. I hope you like it and take the time to make yourself one.

I did the design using Rhinoceros CAD software. I've already made a mockup out of plywood and now it's time to make the real deal.

Because of the way I designed it precise cutting is very critical to a successful project. I used zero clearance tablesaw inserts which I made in November's newsletter, www.runnerduck.com/table_saw_insert/insert.htm. I also used really good saw blades. My favorite for precision ripping is the Glueline Rip from Freud:

And for crosscutting I like the Freud Crosscut Blade:

For good clean dado cuts I like using the Forrest Dado King blade set.

First we need a cut list so here it is:
(12) 1/2" X 1/2" X 15 3/4" Maple - Horizontal Cross Supports
(6 pairs) 3/4" X 3/4" X 12 1/2" Walnut - Vertical Supports
(12) 1 3/4" X 3/4" X 12 1/4" Walnut - Large Shelves
(8) 1" X 3/4" X 12 1/4" Walnut - Small Shelves
I started by cutting the Vertical Supports. Make each pair out of the same piece so when you glue them together they will match. Another way you could do this project is to mortise the vertical supports for the cross supports and make the vertical supports 1 1/2" wide instead of 3/4". I don't have a mortiser and I'm too lazy to chisel them, I decided to use my tablesaw and a dado.
Once you cut the Vertical Supports keep them matched by marking them with a piece of chalk. This will prevent them from getting mixed up later on.
Set up the dado blade for 1/2". It isn't actually 1/2" so I cut a scrap piece and measured it.
I like to use calipers to take accurate measurements. I currently use dial calipers but would really like to get a pair of digital fractional ones.
Next I took the Maple and ran it through the planer until I got it to the same thickness as the dado.
I used a scrap piece of Walnut that I ran through the dado to make sure that the Maple fit in the groove.
I also ran the Walnut through the planer to make sure that each piece was the same 3/4" thickness.
I wanted the Maple supports to be exactly square so I set up my table saw width using the planed Maple boards.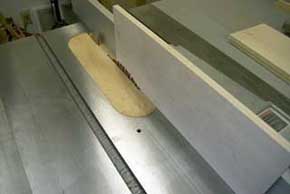 To see the rest of this project go to www.runnerduck.com/wine_rack/wine_rack.htm
---
If you have a project that you would like to share please send us an email and we'll help get it published in the RunnerDuck review. We are looking for woodworking, gardening, crafts and kids projects so send us your thoughts at kennyb@runnerduck.com.
---
---
Tell A Friend About The "Duck"
One of the best ways we build our reader base is by good people like you telling your friends about "The "Duck". If you know someone that you think would like our newsletter just
Send This Newsletter To a Friend

Privacy Statement: This information does not go to anyone but the person you entered above. We do not collect any information from this form.
---
If you want to talk about something just drop us a line to kennyb@runnerduck.com any time, we like to talk about most anything. We are always looking for content for our newsletter so if you have something to add we'd love to publish it. Assuming it meets our strict family oriented requirements!

All rights reserved, RunnerDuck Productions,
2000, 2001, 2002, 2003, 2004, 2005, 2006
RunnerDuck and its logos are property of
RunnerDuck Productions.
All other logos are property of the individual companies.
We can be contacted at kennyb@runnerduck.com.